Microwriting
C.M. MAYO'S D5MWE ARCHIVES -- AUGUST. "Birthday Cake, etc" Write a brief scene that includes: a red sneaker; a birthday cake; a giraffe; the smell of paint and cigarettes.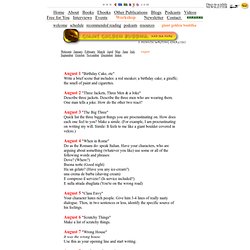 August 2 "Three Jackets, Three Men & a Joke" Describe three jackets. Describe the three men who are wearing them. One man tells a joke. How do the other two react? August 3 "The Big Three" Quick list the three biggest things you are procrastinating on. Suggestions for 10-Minute Writing Exercises.
Sometimes you wake up and the creative wellsprings are dribbley and dry.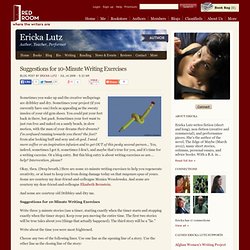 Sometimes your project (if you currently have one) feels as appealing as the sweaty insoles of your old gym shoes. You could put your feet back in there, but yuck. Sometimes your feet want to just run free and naked on a sandy beach, in slow motion, with the man of your dreams their dreams? Three-Minute Fiction. Six-Word Memoirs at SMITH Magazine. A Six-Word Memoir® is the story of your life—some part of it or all of it—told in exactly six words.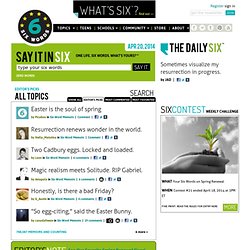 In classrooms and boardrooms, churches and synagogues, veteran's groups and across the dinner table, Six-Word Memoirs have become a powerful tool to catalyze conversation, spark imagination or simply break the ice. Here on Six Words, we offer a simple platform to share the short, sharp story of your life, as well as provide daily prompts to share your six-word takes on the topics of our times. Writing Contest: "Three Minute Fiction" hosted by NPR « Damian Daily. Here's an interesting press release I just received about a short fiction writing contest hosted by NPR: NPR CHALLENGES AUDIENCES TO WRITE "THREE MINUTE FICTION" ALL THINGS CONSIDERED WEEKEND CONTEST ACCEPTINGORIGINAL SHORT STORY SUBMISSIONS UNTIL FEBRUARY 28 AT NPR.ORGMany people aspire to write the great American novel, and NPR is offering an opportunity to take a giant baby step toward that goal by asking audiences to type an epic 600 words.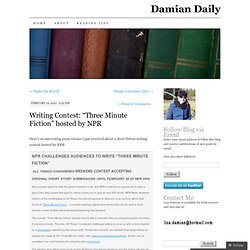 NPR News' weekend version of the newsmagazine All Things Considered appeals to listeners' inner authors with a third round of "Three Minute Fiction" – a contest seeking original short stories that can be read in three minutes or less. Entries will be accepted beginning this weekend.The popular "Three Minute Fiction" contest returns with a new twist after receiving thousands of entries in previous rounds. This time, All Things Considered challenges writers to come up with a story inspired by a photograph selected by the show's staff.
---