Microwriting
C.M. MAYO'S D5MWE ARCHIVES -- AUGUST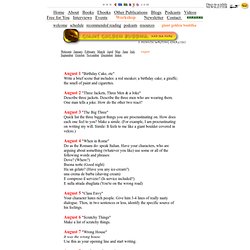 "Birthday Cake, etc" Write a brief scene that includes: a red sneaker; a birthday cake; a giraffe; the smell of paint and cigarettes. August 2 "Three Jackets, Three Men & a Joke" Describe three jackets. Describe the three men who are wearing them. One man tells a joke. How do the other two react? August 3 "The Big Three" Quick list the three biggest things you are procrastinating on.
Suggestions for 10-Minute Writing Exercises | Red Room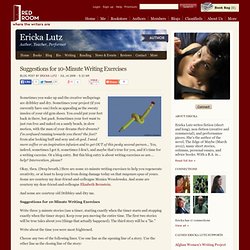 Sometimes you wake up and the creative wellsprings are dribbley and dry. Sometimes your project (if you currently have one) feels as appealing as the sweaty insoles of your old gym shoes. You could put your feet back in there, but yuck . Sometimes your feet want to just run free and naked on a sandy beach, in slow motion, with the man of your dreams their dreams?
Three-Minute Fiction
Six Word Memoirs on Life Stories « back to <p class="reg_message">SMITH requires javascript.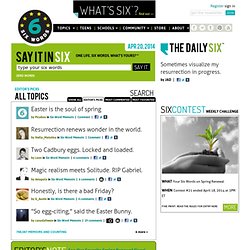 Writing Contest: "Three Minute Fiction" hosted by NPR « Damian Daily