Sport
Parkour Motion Reel. Yamakasi : les 9 membres d'origine. Le label Majestic Force. Parkour.com?|?For fans and practitioners of Parkour and Freerunning. Urban Freeflow ® Official Worldwide Freerun/Parkour. Parkour-videos.com : all the best videos of parkour. First Ascent :: The Series. The Human Spider. Parental Control Look out for the add to Favourites button as you browse the siteUse the buttons to create a list of all your favourite showsNew 4oD episodes are flagged here so you don't miss out Programme Unavailable.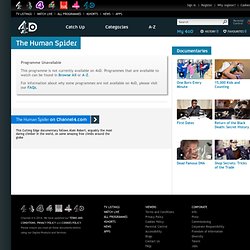 Welcome to slackline.org.uk :: the UK slacklining resource. Slacklining - Moab. Rat Race Adventure - Not Your Normal Nine To Five.
VIBRAM - FiveFingers.
---