Sport
Parkour Motion Reel
Yamakasi : les 9 membres d'origine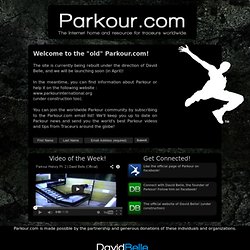 The site is currently being rebuilt under the direction of David Belle, and we will be launching soon (in April)! In the meantime, you can find information about Parkour or help it on the following website : www.parkourinternational.org (under construction too). You can join the worldwide Parkour community by subscribing to the Parkour.com email list!
Parkour.com?|?For fans and practitioners of Parkour and Freerunning
Parkour-videos.com : all the best videos of parkour
First Ascent :: The Series
The Human Spider
Parental Control HistoryCloseSign in to get the most from 4oD History View your own personal 4oD history, useful if you share a computerKeep track of the last 50 shows you watched or started watchingResume unfinished shows from the point you stopped watching FavouritesCloseStart using Favourites today Look out for the add to Favourites button as you browse the siteUse the buttons to create a list of all your favourite showsNew 4oD episodes are flagged here so you don't miss out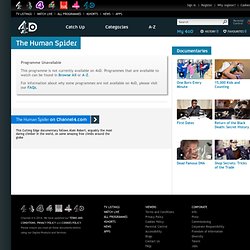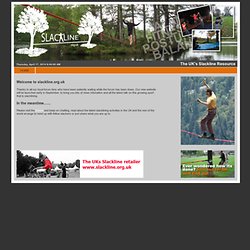 Welcome to slackline.org.uk Thanks to all our loyal forum fans who have been patiently waiting while the forum has been down. Our new website will be launched early in September, to bring you lots of news infomation and all the latest talk on this growing sport that is slacklining. In the meantime....... Please visit the and keep on chatting, read about the latest slacklining activities in the UK and the rest of the world arrange to meet up with fellow slackers or just share what you are up to.
welcome to slackline.org.uk :: the UK slacklining resource
Slacklining - Moab
Join the Rat Race: The most exciting membership in outdoor sport & fitness. Save 15% on solo event entry and kit purchases (excluding bikes) for just £15 a year with our Standard Membership! Receive a £50 kit voucher, save 15% off all kit purchases, and get entry to all Rat Race Events (worth £2,000) absolutely free with a Rat Race Season Ticket from just £495 a year!
Rat Race Adventure - Not Your Normal Nine To Five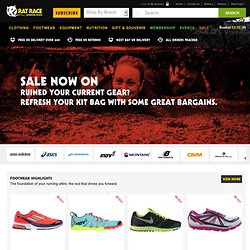 VIBRAM - FiveFingers