Sewing
Dress Coat 09/2012 #102. Rating 0 votes Buy or download pattern to rate Difficulty.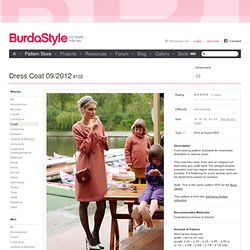 Gratis syoppskrifter. Jeg tar på meg bestillinger når jeg har tid og lyst, så send meg gjerne en mail om du er på utkikk etter noe spesielt som ikke finnes i butikken akkurat da.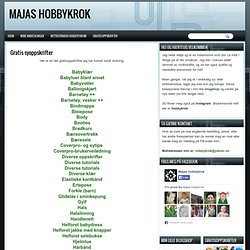 For at syingen alltid skal være en glede og for å gjøre plaggene jeg lager unike ønsker jeg å ha en del kreativ frihet på det jeg lager på bestilling. Du velger selvfølgelig ønsket plagg, str og f.eks. farger du liker (evnt. ikke liker). Resten ønsker jeg å kose meg med å sette sammen på syrommet. Sy kantband i trikå. När jag började sy tyckte jag trikå var så läskigt.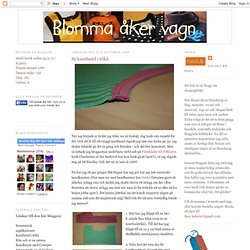 Jag hade sån respekt för det. Och att få till ett snyggt kantband vågade jag inte ens tänka på (jo, jag tänkte faktiskt på det en gång och försökte - och det blev katastrof). Men så hittade jag bloggarnas underbara värld och på Filurkläder till Fiffiluren hade Charleston så bra beskrivit hur hon hade gjort (tack!!) Fashion, Sewing Patterns, Inspiration, Community, and Learning | BurdaStyle.com.
Sew a bag with the free bag pattern. Crafts / How to make sock Kitty tutorial. Baby Gifts: Pretty Bird Binky 'Leash' & Carry Bag. Summer seems like the prefect time to pull up some projects that will make the most of all those pretty pieces in your scrap bag, bin or box.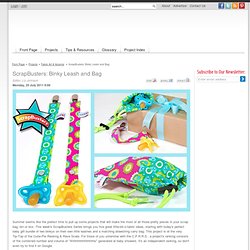 This week's ScrapBusters Series brings you five great little-bit-o-fabric ideas, starting with today's perfect baby gift bundle of two binkys on their own little leashes and a matching drawstring carry bag. This project is at the very Tip-Top of the Cutie-Pie Ranking & Rave Scale. For those of you unfamiliar with the C.P.R.R.S., a project's ranking consists of the combined number and volume of "Ahhhhhhhhhhhhhs" generated at baby showers.
Tie-Hem Girl Shorts. I am so addicted in sewing shorts for my kids with the fabrics I recycled from my old cotton shirts.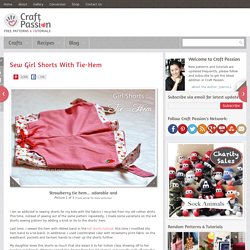 This time, instead of sewing out of the same pattern repeatedly, I made some variations on the kid shorts sewing pattern by adding a knot or tie to the shorts' hem. Last time, I sewed the hem with ribbed band in the kid shorts tutorial, this time I modified the hem band to a tie-band. In additional, I used coordinated color with strawberry print fabric on the waistband, pockets and tie-hem bands to cheer up the shorts further.
Get the pattern & tutorial to sew this shorts after this jump: Sock Bunny. Sock Bunny Sewing TutorialSewing Pattern: Download pattern here.Materials: Make: 1 1.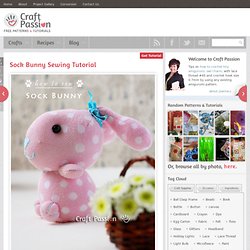 Sock (crew length, with folded cuff or with long cuff), 1 2. Shank Button (as eye) 3/8″ [10mm], black, 2 3. Embroidery Floss, Blue / Pink 4. Ribbon, Blue / Pink 5. Macaron Coin Purse. Just can't help for not making these sweet little macaron coin purses when one of Craft Passion's Facebook fans showed them to me.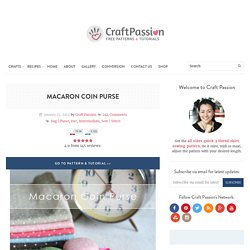 Thanks to XYZZhandmade for her inspiring handmade and some tutorial links in Japanese, this, this, this and this. No, I can't read Japanese but I can guess from the pictures on how to sew it. Here is the English version of tutorial on how to sew this macaron coin purse where I add more details in the sewing. » How to Create your own Leggings.
---