Jessica
My pearltree reflects my true self and what I am intrested in and sometimes my pearls are just funny as hell and I cant not add them. : ]
Words on Pictures. Again. | SadAndUseless.com - StumbleUpon. People and things. & so we ramble. I don't understand your point.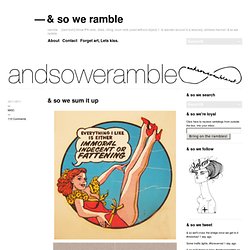 If you are saying "I am…" cannot be followed by a noun, you are wrong. I am a person. I am the mayor. "Person" and "mayor" are nouns. Although, saying "I am single" would make single an adjective, saying "I am a single" implies that it is a noun. Pizza Delivery Instructions / Humorpix - StumbleUpon. John-lennon-quote-happy.jpg from theclothspring.com - StumbleUpon. Dear blank, please blank | iGNANT - StumbleUpon. Wenn man nicht aufpasst, kann es passieren, dass man ohne es zu merken gleich mehrere Stunden auf der "Dear blank, please blank" Homepage verbringt.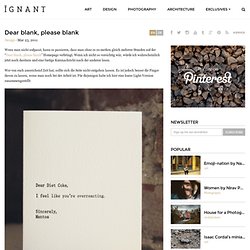 Wenn ich nicht so vorsichtig wär, würde ich wahrscheinlich jetzt noch dasitzen und eine lustige Kurznachricht nach der anderen lesen. Wer von euch ausreichend Zeit hat, sollte sich die Seite nicht entgehen lassen. Es ist jedoch besser die Finger davon zu lassen, wenn man noch bei der Arbeit ist. Für diejenigen habe ich hier eine kurze Light-Version zusammengestellt: Die Karten sind hier im Etsy Shop für jeweils 4,50 Dollar erhältlich.
---