Creativeeethinggs.
V and Co how to: jersey knit bracelet. I don't know what it is about this time of year that makes me just want to have my bare feet in the sand, be watching the sun setting into the ocean, and breathing in the warm salty air of the beach...as i get older, more and more i find myself missing that place i used to go to almost every.single.day. as a teen.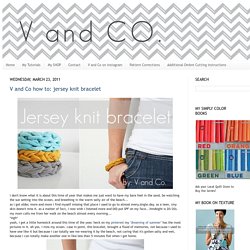 (my skin doesn't miss it. as a matter of fact, i now wish i listened more and DID put SPF on my face...hindsight is 20/20). my mom calls me from her walk on the beach almost every morning... *sigh*yeah, i get a little homesick around this time of the year. heck on my pinterest my "dreaming of summer" has the most pictures in it. ah yes. i miss my ocean. case in point. this bracelet, brought a flood of memories, not because i used to have one like it but because i can totally see me wearing it by the beach, not caring that it's gotten salty and wet, because i can totally make another one in like less than 5 minutes flat when i get home.
I Still Hate Walgreens « Fibromy-Awesome. I've had the pleasure of dealing with the Walgreens Pharmacy for over two years now, on at least a monthly basis, but unfortunately it's usually more.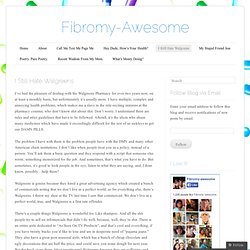 I have multiple, complex and annoying health problems, which makes me a slave to the rule-reciting minions at the pharmacy counter, who don't know shit about shit. Don't worry, I understand there are rules and strict guidelines that have to be followed. Afterall, it's the idiots who abuse many medicines which have made it exceedingly difficult for the rest of us sickleys to get our DAMN PILLS. Feed the Head. The best 30 photo manipulation tutorials for Photoshop | dpxmag.com.
Watermark Tee by Sweet Verbana. Hello U-Create readers!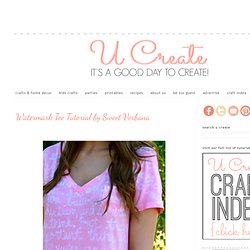 I am so excited to be guest posting here today. It just so happens to be my first guest post and I'm still a little shocked that it's here at Ucreate, one of my favorite blogs!
---