Programs
Biostatistics and Risk Assessment Center, Department of Epidemio. Center on Aging. As the cost of long-term care continues to rise, policymakers and others are seeking new ways to control costs while maintaining or increasing customer satisfaction.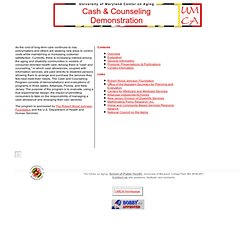 Currently, there is increasing interest among the aging and disability communities in models of consumer-directed health care. Among them is "cash and counseling," in which cash allowances, coupled with information services, are paid directly to disabled persons allowing them to arrange and purchase the services they feel best meet their needs. Department of Kinesiology at University of Maryland : Cognitive. The Cognitive Motor Neuroscience Laboratory, composed of 9 faculty members, post-docs, and graduate students, focuses on behavioral, neural, mechanical, and higher-level mechanisms underlying the selection, planning, learning, initiation, and execution of movement.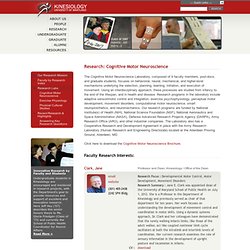 Using an interdisciplinary approach, these processes are studied from infancy to the end of the lifespan, and in health and disease. Research programs in the laboratory include adaptive sensorimotor control and integration, exercise psychophysiology, perceptual motor development, movement disorders, computational motor neuroscience, smart neuroprosthetics, and neuromechanics. Our research programs are funded by National Institute(s) of Health (NIH), National Science Foundation (NSF), National Aeronautics and Space Administration (NASA), Defense Advanced Research Projects Agency (DARPA), Army Research Office (ARO), and other industrial companies. Cultural Competency in Health Care - University of Maryland Coll. Welcome to the University of Maryland College Park-School of Public Health's website on cultural competency and health disparities.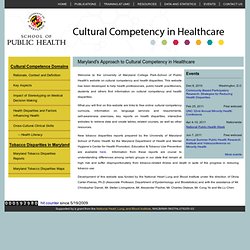 This website has been developed to help health professionals, public health practitioners, students and others find information on cultural competency and health disparities. What you will find on this website are links to free online cultural competency curricula, information on language services and requirements, self-awareness exercises, key reports on health disparities, interactive websites to retrieve data and create tables, related courses, as well as other resources.
New tobacco disparities reports prepared by the University of Maryland School of Public Health for the Maryland Department of Health and Mental Hygiene's Center for Health Promotion, Education & Tobacco Use Prevention are available here. Department of Kinesiology at University of Maryland : Exercise P. Our faculty research interests cover a broad range of areas, from exercise epidemiology to genetic and molecular aspects of aging and exercise physiology.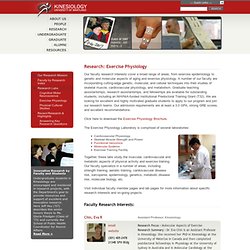 A number of our faculty are incorporating cutting-edge genetic, molecular, and cellular techniques into their studies of skeletal muscle, cardiovascular physiology, and metabolism. Graduate teaching assistantships, research assistantships, and fellowships are available for outstanding students, including an NIH/NIA-funded Institutional Predoctoral Training Grant (T32). We are looking for excellent and highly motivated graduate students to apply to our program and join our research teams.
Our admission requirements are at least a 3.0 GPA, strong GRE scores, and excellent recommendations. Click here to download the Exercise Physiology Brochure. Department of Public and Community Health. :: Family Studies Dept @ UMD :: Family Policy Impact Seminar :: The Maryland Family Policy Impact Seminar is a series of seminars, forums, briefing reports and follow-up activities to inform the decision-making of local and state policymakers.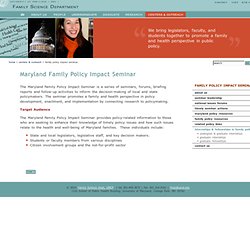 The seminar promotes a family and health perspective in policy development, enactment, and implementation by connecting research to policymaking. Target Audience The Maryland Family Policy Impact Seminar provides policy-related information to those who are seeking to enhance their knowledge of timely policy issues and how such issues relate to the health and well-being of Maryland families. School of Public Health | University of Maryland. Department of Health Services Administration Recharge your life and pursue your passion with OLLI UMD where you learn more and pay less.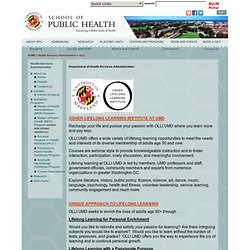 OLLI UMD offers a wide variety of lifelong learning opportunities to meet the needs and interests of its diverse membership of adults age 50 and over. Courses are seminar style to provide knowledgeable instruction and to foster interaction, participation, lively discussion, and meaningful involvement. Lifelong learning at OLLI UMD is led by members, UMD professors and staff, government officials, community members and experts from numerous organizations in greater Washington DC. Department of Kinesiology at University of Maryland : Physical C. Physical Cultural Studies: Program Description Physical Cultural Studies (PCS) advances the critical and theoretical analysis of physical culture, in all its myriad forms.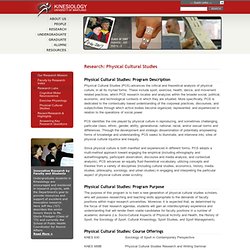 These include sport, exercise, health, dance, and movement related practices, which PCS research locates and analyzes within the broader social, political, economic, and technological contexts in which they are situated. More specifically, PCS is dedicated to the contextually based understanding of the corporeal practices, discourses, and subjectivities through which active bodies become organized, represented, and experienced in relation to the operations of social power. PCS identifies the role played by physical culture in reproducing, and sometimes challenging, particular class, ethnic, gender, ability, generational, national, racial, and/or sexual norms and differences.
Public Health Informatics (PHI) School of Public Health | University of Maryland. Welcome to the Public Health Science program offered by the University of Maryland, College Park at the convenient campus at Universities at Shady Grove (USG)!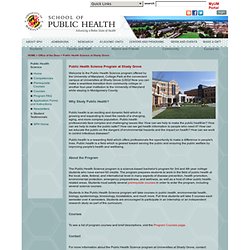 Now you can make a seamless transition from community college or another four-year institution to the University of Maryland while staying in Montgomery County. Why Study Public Health? Public health is an exciting and dynamic field which is growing and expanding to meet the needs of a changing, aging, and more complex population. UM STAR: Department of Kinesiology | University of Maryland.
The University of Maryland School of Public Health Summer Training and Research (STAR) program is designed to provide traditionally under-represented undergraduate students with two consecutive summers of a 10-week research training and career development program to enhance their potential to apply for and complete graduate degrees in biomedical and behavioral science relevant to preventing and treating cardiovascular disease.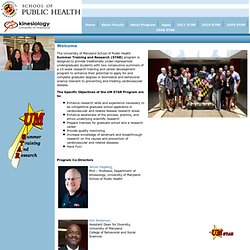 The Specific Objectives of the UM STAR Program are to: Enhance research skills and experience necessary to be competitive graduate school applicants in cardiovascular and related disease research areas Enhance awareness of the process, practice, and ethics underlying scientific research Prepare trainees for graduate school and a research career Provide quality mentoring Increase knowledge of landmark and breakthrough research on the causes and prevention of cardiovascular and related diseases Have Fun!
---