Portrait
Photography Posing Tips: Sitting Edition. FAQ : Posing. Alk to me in six months!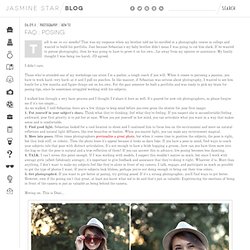 That was my response when my brother told me he enrolled in a photography course in college and wanted to build his portfolio. Just because Sebastian's my baby brother didn't mean I was going to cut him slack. If he wanted to pursue photography, then he was going to have to prove it on his own...far away from my opinion or assistance. My family thought I was being too harsh. FAQ : How to Capture FUN Engagement Photos. When I started my photo business, I was desperate to learn everything I could about the technical aspects of my camera.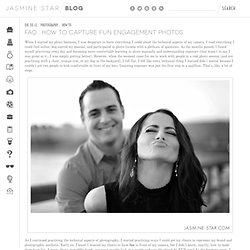 I read everything I could find online, dog-earred my manual, and participated in photo forums with a plethora of questions. As the months passed, I found myself practicing every day and becoming more comfortable learning to shoot manually and understanding exposure (that wasn't to say I was great at it...I was simply getting better). However, when the moment came for me to work with people in a real photo session (and not practicing with a chair, orange tree, or my dog in the backyard), I fell flat.
Posing Everyone! If I Had $1,000 To Spend on Improving My Portrait Photography, I'd Get… I get asked this question a lot (well, not exactly the $1,000 amount — it's based on the person asking the question's budget — sometimes it's $1,200, sometimes it's $800 so I went with something in the middle).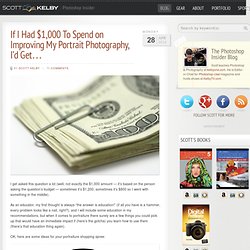 As an educator, my first thought is always "the answer is education!" (if all you have is a hammer, every problem looks like a nail, right?) , and I will include some education in my recommendations, but when it comes to portraiture there surely are a few things you could pick up that would have an immediate impact if (here's the gotcha) you learn how to use them (there's that education thing again).
101 Tips and Ideas for Couples Photography. By Becca It's almost time for Fall Family Pictures again!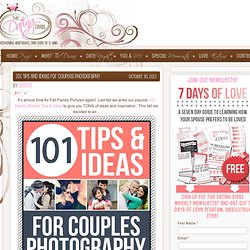 Last fall we aired our popular 101 Family Picture Tips & Ideas to give you TONS of ideas and inspiration. This fall we decided to air… Annie Leibovitz On Getting The Shot--And The Future Of Photography. As one of the world's most renowned photographers, Annie Leibovitz's work is instantly recognizable and those lucky enough to be her subjects are elevated to the realm of fantasy.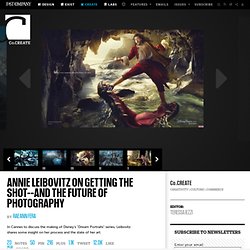 Her most fantastical work to date--the ongoing "Dream Portraits" campaign for Disney Parks that casts Hollywood A-Listers as fabled characters--was the subject of a recent talk that brought the legendary photographer to the Cannes Lions International Festival of Creativity recently. The work, she said, was emblematic of what happens when an agency and a brand allow an artist the freedom to ply her craft.
It's all about the Jaw! It's all about the Squinch! Hanson Fong: It's Showtime! Time To Look Good!
---