Photography
Are you a frustrated family portrait photographer?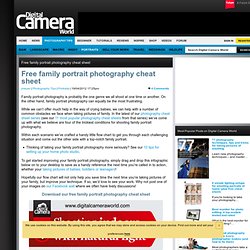 EasyShare Z760 zoom digital camera — User's guide
S220S225EN.pdf (application/pdf Object)
Have you ever been photographing a subject with tricky lighting or lots of variation between bright and darker areas but were not sure what exposure setting to go with? One way to work in such situations is to manually play around with your exposure control and take a series of shots – the problem with this is that it takes time and if you are photographing a changing environment (for example a sunset which changes from moment to moment) you can lose 'the moment' while you get things right. Most DSLRs (and some more advanced compact cameras) come with a feature called ' Automatic Exposure Bracketing ' (AEB) which can be useful to learn how to use in such situations.
Automatic Exposure Bracketing (AEB)
Introduction to White Balance
White Balance is an aspect of photography that many digital camera owners don't understand or use – but it's something well worth learning about as it can have a real impact upon the shots you take. So for those of you who have been avoiding White Balance – let me introduce you to it. I promise to keep it as simple as possible and keep what follows as useable as I can: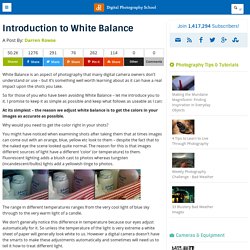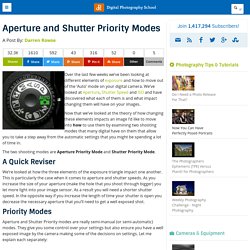 Over the last few weeks we've been looking at different elements of exposure and how to move out of the 'Auto' mode on your digital camera.
Aperture and Shutter Priority Modes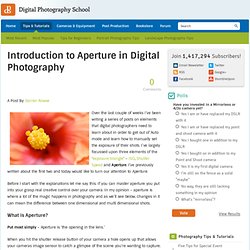 Introduction to Aperture in Digital Photography
Over the last couple of weeks I've been writing a series of posts on elements that digital photographers need to learn about in order to get out of Auto mode and learn how to manually set the exposure of their shots. I've largely focussed upon three elements of the ' exposure triangle ' – ISO , Shutter Speed and Aperture . I've previously written about the first two and today would like to turn our attention to Aperture .
Previously I've introduced the concept of the Exposure Triangle as a way of thinking about getting out of Auto Mode and exploring the idea of manually adjusting the exposure of your shots.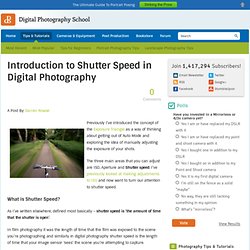 Introduction to Shutter Speed in Digital Photography
ISO Settings in Digital Photography
Grant (a reader of DPS) asks – 'I'm confused about ISO . What is the best setting to choose?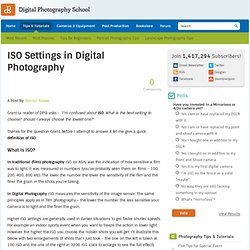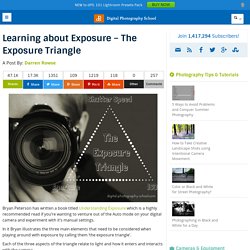 Bryan Peterson has written a book titled Understanding Exposure which is a highly recommended read if you're wanting to venture out of the Auto mode on your digital camera and experiment with it's manual settings.