Diverses utilisations
Get flash to fully experience Pearltrees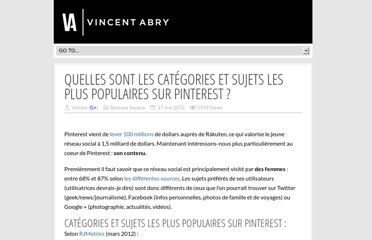 Pinterest vient de lever 100 millions de dollars auprès de Rakuten, ce qui valorise le jeune réseau social à 1,5 milliard de dollars.
Doit-on encore présenter le nouveau réseau social Pinterest .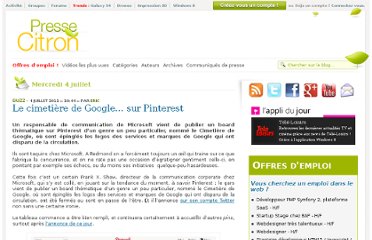 Mercredi 4 juillet
Début 2012, j'ai eu un coup de coeur pour Pinterest , découvert au hasard de mes vagabondages sur la toile. Un mur de photos, toutes plus belles les unes que les autres, des photos de paysages, de pays, de mode (là je suis hermétique), bref de quoi construire un univers d'images à son goût, tout en picorant à droite et à gauche via les autres « boards ». J'ai aimé de suite le concept, j'ai envoyé des invitations à des contacts et amis, et j'ai construit mes boards.
Home, Arts and Crafts, and Style/Fashion are the most popular categories on Pinterest, a third-party study released Monday indicates. According to business intelligence firm RJ Metrics , 17.2% of all pinboards are categorized under Home, followed by Arts and Crafts (12.4%), Style/Fashion (11.7%), Food (10.5%) and Inspiration/Education (9.0%). Of those, food is the fastest-growing category.
Have you joined Pinterest yet? I have to admit – I've been pretty obsessed with it in the last few weeks as I started pinning things and exploring the community. And some pinners are using this new network in really cool ways.
You've likely heard about Pinterest by now; it's the hot new social bookmarking service that allows users to curate interesting content they find anywhere on the Internet by "pinning" the content to their profile on Pinterest.
The social mobile community Pinterest – where people "pin" images to "boards" and share them on the Web and through Facebook and Twitter – is taking the world by storm. Last year was Instagram 's year, but 2012 is the year Pinterest exploded in popularity.
Many moons ago, I posted What Kind of Friend are YOU?
We're big fans of Pinterest and although we're iffy on the profile redesign , we're sure the site's popularity isn't going to be on the wane any time soon.