Food blogs
Blue Kitchen — Good food. Great stories. I swear.
Oven-braised Chicken Thighs with Brussels Sprouts and Potatoes is a hearty, one-pan meal—perfect for a winter night. Dried minced orange peel adds a bright citrusy note. Recipe below. I recently remembered a children's book that was already ancient when I was a child. The 500 Hats of Bartholomew Cubbins, written and illustrated by Dr.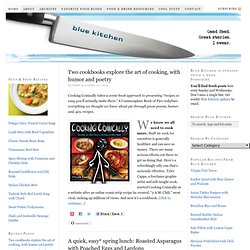 BitterSweet
Like clockwork, I'm right back at my usual tricks again, infusing every morsel that crosses my path with a bit of edible sunshine while the real thing plays hard to get. Grapefruits, oranges, lemons, and limes are always close at hand, spilling out of the refrigerated fruit bin and lining the kitchen counters, decorating these dark spaces with a cheerful spray of neon colors. Their natural luminescence does wonders to lift spirits through the most gloomy of days, but it's truly the bold, bright, astringent flavors that sustain me through winter. This year, I've added a new comer to that line-up of faithful fruity regulars: The petite yet powerful clementine.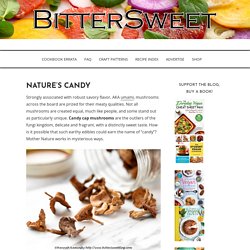 Bake or Break | Adventures of an amateur baker
Aapplemint | A food and photography blog
Albion Cooks
Still looking for an tasty Christmas dish to add to your table? Try these festive savory cakes made with chickpeas, herbs, spinach, roasted red pepper and chickpea flour. I'm just hoping I can save some from tomorrow! My daughter requested chickpea cakes for our Christmas entree this year.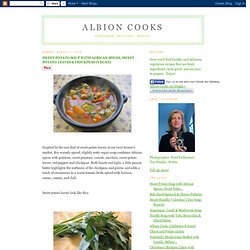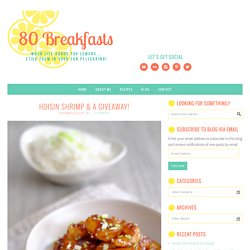 80 Breakfasts
I am, for perhaps the last time, clacking away at my keyboard while enjoying the view from my window. The dark night sky punctuated by a number of blinking exclamation points…buildings with a multitude of windows, some lit, some dark. The view one can expect in a city. A view one can choose to embrace, or to bemoan. I choose to embrace it. It's not perfect, as city life is certainly far from perfection, but it is mine.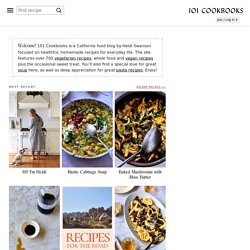 This soup is built on a monster white pepper broth. White pepper with jolts of ginger, and stabs of garlic. I like it just shy of scalding, racing down my throat, sweeping through my sinuses in one boisterous, fragrant swoop.
101 Cookbooks - Healthy Recipe Journal
Natalie's Killer Cuisine - Where Food Meats Art
This is how you spell comfort food. Yeah. Up there. That. Spelling was my best subject in school so I would know. Right!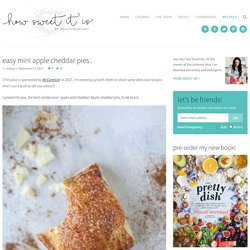 How Sweet It Is
evil chef mom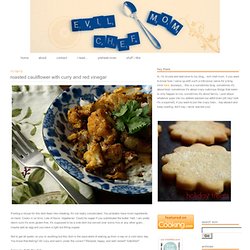 I want to make the argument that scones are the instant gratification of the baking world. I know, I know you have had some bad ones, cold ones, stale ones... so have I. But.
Omnomicon makes
I present to you: that eleventh hour, absolutely perfect finishing touch to your Halloween spread. Once you've gone through caramel apples & popcorn balls, pumpkin bread/cookies/cupcakes/whoopie pies and cider donuts, it's hard to be all that original without making something that looks like something else. Alas, the very concept of making a dessert that is appealing only insofar as its resemblance to a mummy's finger or a cat's litterbox is kind of like saying you would feed those things to your guests if only they were edible just because it's Halloween. On the other hand is the risk of creating something that just doesn't quite hit the mark. It's bad enough that I have to explain my costume (look, I didn't think Anne Boleyn was all that arcane a reference), to have to explain "See?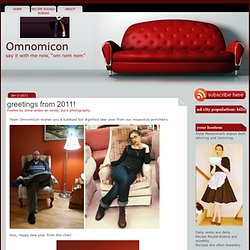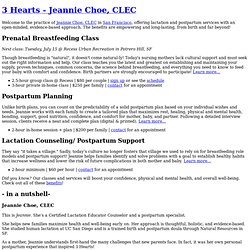 SF Food Wars
Our salsa-loving Sponsors have done it again!! As usual, our prizes are *en fuego* thanks to their generous donations adding up to over $3000 in cash, certificates, and the coolest stuff ever! In addition, local chip and salsa mavens Casa Sanchez are back again, generously donating their delicious Organic Tortilla Chips to serve as perfect salsa vessels! Here's what our Great Salsa ChampionChip winners will receive: People's Choice: $100 Cash, 1-year membership at 18 Reasons , Anolon Advanced Bronze 10-inch Skillet, Microplane Home Series Coarse Grater, Wusthof 4.5-inch Multi-Prep Knife, Quick and Easy Mexican Cooking c/o Chronicle Books , Cloverware on-the-go utensils c/o Alite , Ochiba Pack c/o Alite , Method Miracle Kit, 1 case of Honest Tea beverages
When we wrote our first book we were testing dozens of loaves a week, and despite our healthy appetites, we just couldn't consume all that we baked. Our neighbors were happy to take some of the bread, but there was more than a city block could consume, so we started making all kinds of recipes using up the leftovers. There are beautiful salads and puddings that are perfect for leftover (even stale) bread. In the New ABin5 we added this Savory Bread Pudding, which can be made with just about any loaf you bake. Well, I may have found the exception…I tried this recipe with some leftover Panettone and my very opinionated and vocal family requested that I not use that particular bread again for this. My husband described it as Thanksgiving stuffing, but richer.
Artisan Bread in Five Minutes a Day