Jive
Jive SBS : Le « Réseau Social d'Entreprise » par excellence. Toutes les dernières analyses sur les logiciels sociaux ou d'Entreprise 2.0 s'accordent sur la position de leader qu'occupe l'éditeur Jive avec sa solution très complète : Jive SBS.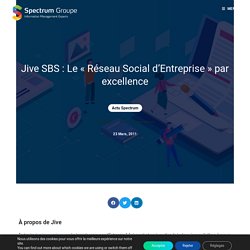 Nous avons analysé début 2008 un ensemble de produits lors d'une étude publiée dans le magazine IT Expertise, disponible ici. Depuis, Jive avec son offre ClearSpace, re-baptisée Jive SBS pour « Social Business Solution », n'a cessé de se démarquer en innovant et en proposant la solution la plus complète du marché.
Je vous propose dans cet article un tour d'horizon de ce produit et reviens sur les points marquants qui, à notre avis, en font un produit à part ! Les Réseaux Sociaux d'Entreprise. Social Business Software provides predictive intelligence., Jive Software. SAN FRANCISCO, -- Today at The New Way Tour, Jive Software unveiled Jive 5, the most advanced and powerful Social Business platform in the industry.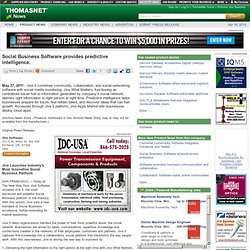 With this launch, Jive sets a new standard of Social Business excellence, further extending its market leadership. Jive 5 helps organizations harness the power of their most powerful asset, the social network. Jive Software -- The Next Company You Need To Know About. Jive Software has been around since 2001, but in the last couple of years it's finally found its niche: building a social collaboration platform for businesses.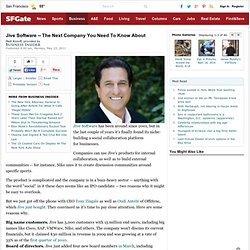 Companies can use Jive's products for internal collaboration, as well as to build external communities -- for instance, Nike uses it to create discussion communities around specific sports. The product is complicated and the company is in a buzz-heavy sector -- anything with the word "social" in it these days seems like an IPO candidate -- two reasons why it might be easy to overlook. Social Media Monitoring Solutions. Jive Community: Space: Jive Talks. Jive Software lève 30 millions de dollars auprès de Sequoïa et Kleiner Perkins. Jive Software.
Jive Software is a software company in the social business software industry headquartered in Palo Alto, California.[1] Founded in 2001, Jive maintains additional offices in Portland, OR; San Francisco, CA; Boulder, CO; New York, NY; Toronto, Ontario, Canada; Reading, UK; Frankfurt, Germany; São Paulo, Brazil; Tel Aviv, Israel; Sydney & Melbourne, Australia; Hong Kong; Singapore and Tokyo.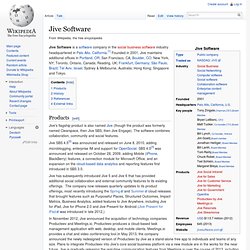 Products[edit] Jive SBS 4.5[2] was announced and released on June 8, 2010, adding microblogging, enterprise IM and support for OpenSocial. Jive Overview. Jive Software: Now Business is Social. Jive. Jive adopte un positionnement haut de gamme par rapport aux acteurs traditionnels, en mettant l'accent sur une R&D forte soutenue par des acquisitions technologiques fréquentes (Producteev, Meetings.io).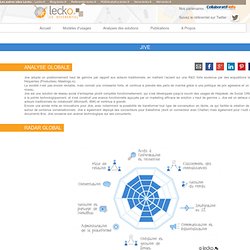 La société n'est pas encore rentable, mais connait une croissante forte, et continue à prendre des parts de marché grâce à une politique de prix agressive et un discours haut niveau. Jive est une solution de réseau social d'entreprise plutôt complète fonctionnellement, qui s'est développée jusqu'à couvrir des usages de Helpdesk, de Social CRM… L'outil est à la pointe technologiquement, et s'est construit une avance fonctionnelle appuyée par un marketing efficace de solution « haut de gamme ». Jive SBS. Social Business : comment sortir de l'impasse Chronique.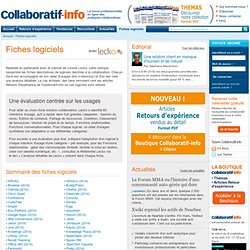 Par Anthony Poncier. 80% d'échecs selon Gartner pour les projets collaboratifs, 70% de désengagement de la part des collaborateurs. Jive Market Engagement Webcast. Jive Software CEO Tony Zingale's Enterprise 2.0 Conference Keynote. ISRAELVALLEY. ISRAEL STARTUP NATION - Jive Software a acquis OffiSync basée à Seattle. Elle compte 12 personnes, dont une équipe d'ingénieurs travaillant en Israël. May 27 La technologie d'OffiSync que vient de s'offrir Jive sert à relier les outils de collaboration sociale avec les logiciels de Microsoft.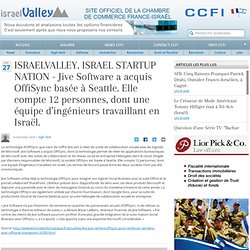 Jive Software a acquis OffiSync, dont la technologie permet de relier les applications bureautiques de Microsoft avec des suites de collaboration et de réseau social en entreprise hébergées dans le cloud. Jive Software veut devenir le Facebook de l'entreprise. Cette semaine Jive Software a annoncé en grandes pompes son intention de s'implanter sur le devant de la scène et de devenir le Facebook de l'entreprise : Jive Software Wants to Be Facebook for the Enterprise.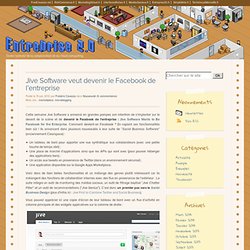 Comment devient-on Facebook ? En copiant ses fonctionnalités bien sûr ! Ils annoncent donc plusieurs nouveautés à leur suite de "Social Business Software" (anciennement Clearspace) : Jive s'offre OffiSync pour capitaliser sur Office et SharePoint. Social Business Software that drives breakthroughs in revenue, cost, and innovation.
---