Cooking
Fluffy Pancakes | Blogger For Hire. This pancake recipe is the result of mixing and matching different recipes from many different sources.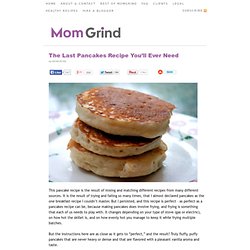 It is the result of trying and failing so many times, that I almost declared pancakes as the one breakfast recipe I couldn't master. But I persisted, and this recipe is perfect – as perfect as a pancakes recipe can be, because making pancakes does involve frying, and frying is something that each of us needs to play with. It changes depending on your type of stove (gas or electric), on how hot the skillet is, and on how evenly hot you manage to keep it while frying multiple batches. But the instructions here are as close as it gets to "perfect," and the result? Truly fluffy, puffy pancakes that are never heavy or dense and that are flavored with a pleasant vanilla aroma and taste. Baked Egg Boat recipe. Eclair Dessert | Chocolate Pudding Graham Cracker Dessert.
How to Make Proper Barbecue Chicken. There's a lot of misconception when it comes to "barbecue.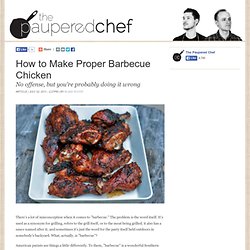 " The problem is the word itself. It's used as a synonym for grilling, refers to the grill itself, or to the meat being grilled; it also has a sauce named after it; and sometimes it's just the word for the party itself held outdoors in somebody's backyard. What, actually, is "barbecue"? American purists see things a little differently. To them, "barbecue" is a wonderful Southern tradition of slow-cooking with indirect heat and woodsmoke to transform cuts of meat, often inexpensive ones, into succulent, unbelievably delicious results.
Unbelievably Easy Roast Beef. I present to you all a Christmas roast.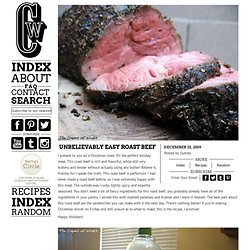 It's the perfect holiday meal. This roast beef is rich and flavorful, while still very buttery and tender without actually using any butter! Believe it, friends, for I speak the truth. This roast beef is perfection. I had never made a roast beef before, so I was extremely happy with this meal. Top 10 Awesome Dips. In the today's article we prepared you 10 easy to make (even at your home) dips.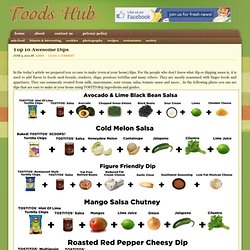 For the people who don't know what dip or dipping sauce is, it is used to add flavor to foods such breads, crackers, chips, potatoes tortillas and many others. They are mostly consumed with finger foods and appetizers. They can commonly created from milk, mayonnaise, sour cream, salsa, tomato sauce and more… In the following photo you can see dips that are easy to make at your home using TOSTITOS® ingredients and guides.
Use our spice primer to learn what spices go with which foods, and how to experiment. So you've stocked your cupboard and are eager to spice up your meals.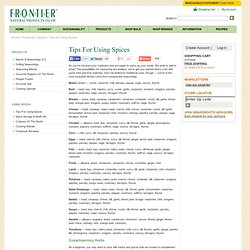 But what to add to what? The possibilities for seasoning are endless, but to get you started here's a list with some tried and true matches. Don't be limited by traditional uses, though — some of the most exquisite dishes come from unexpected seasonings. Beans (dried) — cumin, cayenne, chili, parsley, pepper, sage, savory, thyme Beef — basil, bay, chili, cilantro, curry, cumin, garlic, marjoram, mustard, oregano, parsley, pepper, rosemary, sage, savory, tarragon, thyme. Himalayan Salt Blocks, Salt Plates, and Salt Bricks used for cooking.
Pakistani Pink Himalayan salt blocks, plates, platters, and bricks can be used for sautéing, grilling, chilling, curing, baking, salting, plating, bathing, and contemplating.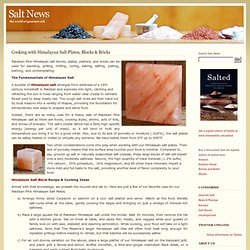 The Fundamentals of Himalayan Salt A boulder of Himalayan salt emerges from darkness of a 16th century mineshaft in Pakistan and explodes into light, catching and refracting the sun in hues ranging from water-clear crystal to clematis flower pink to deep meaty red. The rough salt rocks are then hand cut by local masons into a variety of shapes, providing the foundation for extraordinary new ways to prepare and serve food. Indeed, there are as many uses for a heavy slab of Pakistani Pink Himalayan salt as there are foods, cooking styles, whims, acts of folly, and shows of bravado.
Change Your Life Rich Red Wine Sauce. By Meathead Goldwyn When you put a piece of meat dunked in this red wine sauce, your life will change.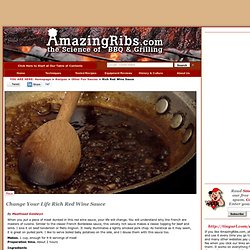 You will understand why the French are masters of cuisine. Similar to the classic French Bordelaise sauce, this velvety rich sauce makes a classic topping for beef and lamb. Macaroni and Cheese. Farewell, blue box.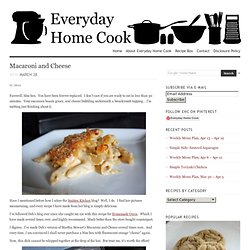 You have been forever replaced. I don't care if you are ready to eat in less than 30 minutes. Your successor boasts gooey, real cheese bubbling underneath a breadcrumb topping… I'm melting just thinking about it. Have I mentioned before how I adore the Smitten Kitchen blog? Well, I do. Sandwiches! - Blog - food52 - food community, recipe search and cookbook contests. Almost 3 years ago ingefaer Hi daisypom;I grew up in Denmark and yes, the cucumber is a much loved and used vegetable all over Scandinavia.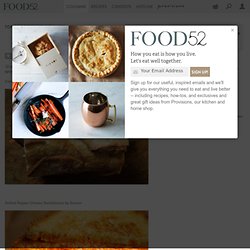 It is used as a component of many of the open-faced sandwiches. A few examples: New boiled potatoes sliced and alternated with sliced cucumber on thin sliced black rye bread with butter, salt, pepper and chives. Another one would replace the potatoes with hard boiled eggs.Then of course the tomato sandwich with sliced cucumber. Country pate on rye bread with sliced cucumber etc. etc. Dinner in 15 Minutes Flat - Make Your Selections.
Buffalo Chicken Rolls. I'm thinking we're very comfortable together at this point, me and you.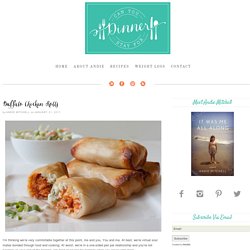 You and me. At best, we're virtual soul mates bonded through food and cooking. Cooking for 2 recipes. Braided Spaghetti Bread » The official blog of America's favorite frozen dough. We are carb lovers at our house, so when I saw the Braided Spaghetti Bread recipe in the Rhodes Home Baked Family Favorites with frozen dough cookbook I knew we would love it. This is a really simple recipe; it just takes a little planning for thawing the dough. It will take 2-3 hours for the bread loaf to thaw to room temperature or 1-2 hours for the rolls to thaw to room temperature. You will need:
---