DIY
DIY scratch pad notebooks. Hi there!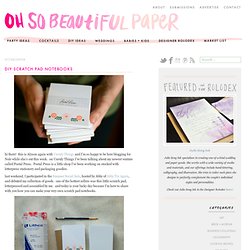 This is Alyson again with Unruly Things and I'm so happy to be here blogging for Nole while she's out this week. on Unruly Things I've been talking about my newest venture called Postal Press. Postal Press is a little shop I've been working on stocked with letterpress stationery and packaging goodies. last weekend, I participated in the Summer Social Sale, hosted by Abby of Abby Try Again, and debuted my collection of goods. one of the hottest sellers was this little scratch pad, letterpressed and assembled by me. and today is your lucky day because I'm here to share with you how you can make your very own scratch pad notebooks. here are the supplies you'll need: Gallery Walls I've Met and Liked. My husband and I are close to buying our first home.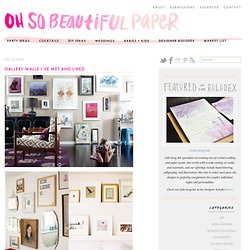 While he goes into a showing thinking of all the logistical aspects, I go in picturing where I'll put built-in bookshelves, a nice gallery wall and my party supplies. I've already told him that he doesn't need to worry about the decorating one bit. Quilled HOME Paper Wall Art Custom Colors by vanhoosedesign. <div id="javascript-nag" class="notice"><p> Take full advantage of our site features by enabling JavaScript.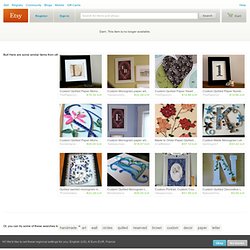 <a href=" more</a>. </p></div> Help. Pretty Office Stationery - Aqua and Gold. The season of celebration has come and gone.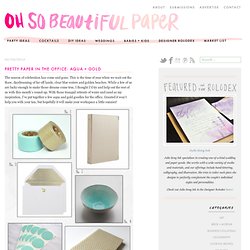 This is the time of year when we wait out the thaw, daydreaming of far off lands, clear blue waters and golden beaches. While a few of us are lucky enough to make those dreams come true, I thought I'd try and help out the rest of us with this month's round-up. Reclaimed Wood Coat Rack with Hand Forged Iron Hooks by by VinTin. **Please know that, depending on our current work load, it might be three weeks before we are able to complete and ship your order*** See our shipping policies here for CURRENT info: This beautiful rack is made using reclaimed wood.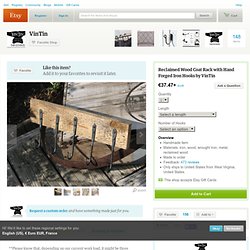 Most of the time it will be a 1"x4". No rack will be identical, but they will all look very similar to this. No two pieces of reclaimed wood are the same.
---