Make it Happen
Get flash to fully experience Pearltrees
How to Turn a Boring Job Into an Exciting Career Monday, October 29th, 2012 If you're ready to level up your superpowers, you may want to sign-up for my 7 Part free E-Course to a Happier and More Successful You or my RSS feed . Thanks for visiting! The only way you will be able to find a job that you love is if you use your present job to level up your career.
With the rapid rise of crowdsourcing over the last five years since the term was coined by Jeff Howe in Wired , there has been a lot of coverage on how individuals, organizations and businesses can implement the concept into their work.
The Spark of Genius Series highlights a unique feature of startups and is made possible by Microsoft BizSpark.
Adam Ludwin Jul 06, 2011 Back to blog
Bill Clark is the CEO of MicroAngel Capital Partners , a venture firm that gives more investors access to alternative investments. He also gives investors the ability to invest in startups online through crowdfunding. You can follow him on Twitter @austinbillc .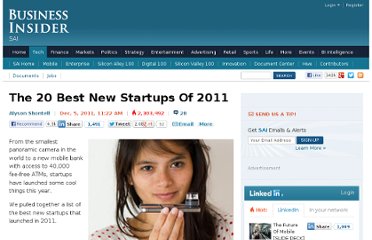 Founders: Jonathan Marcus, David Marcus, and Jack Zerby Funding: $3 Million+ in funding led by Alex Zubillaga of the Rhone Group. Additional angel investors include Dave Morin of Path, David Tisch of TechStars, Vimeo founder Jake Lodwick, Joey Levin of Mindspark, and John Foley of Barnes & Noble. What it is: An incredibly easy to use e-commerce site.
Fab has been a busy bee recently. Last week, the flash-sale site launched five new verticals . And now, the New York-based startup has snapped up Berlin-based Casacanda and opened up their first international site, Fab.de. That's a lot of expansion for a company that's not even a year old. Sure, Fab is growing like gangbusters. After opening its digital doors in June, it grew to 1 million members in November and got to double that earlier this month.
Do you know a dominant Type-A personality like Mark Cuban but can't seem to get on his radar? Do you work with sensitive touchy-feely people at work but have trouble relating? How can you influence your customers, the people you work with or your social community?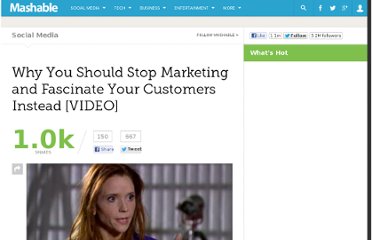 Phin Barnes is a principal at First Round Capital, a venture capital firm that backs some of today's buzziest startups, like Fab, Uber, Turntable.fm and GroupMe. Before that, he worked for two startups.