Green
10 Amazing 'Living' Green Roofs - Design. Sure, they provide shelter from the elements—but roofs can be so much more!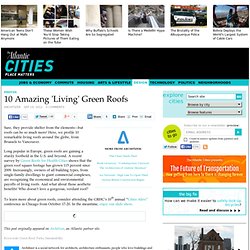 Here, we profile 10 remarkable living roofs around the globe, from Brussels to Vancouver. Long popular in Europe, green roofs are gaining a sturdy foothold in the U.S. and beyond. Terrified by peak oil, FedEx turns to biofuels, efficiency. FedEx owns 700 planes and tens of thousands of trucks, which is why CEO Fred Smith is crazy for energy efficiency, reports NPR.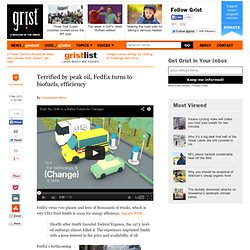 Shortly after Smith founded Federal Express, the 1973 Arab oil embargo almost killed it. The experience imprinted Smith with a keen interest in the price and availability of oil. Photo by LA Wad. FedEx's forthcoming all-electric pickup and delivery vans will cost one-quarter as much to operate per mile as their gasoline equivalents, says Smith. Bay Daily: Windmills Generating Lots of Talk in Virginia. There's continued talk about building a wind farm off Virginia's coast to generate electrical power.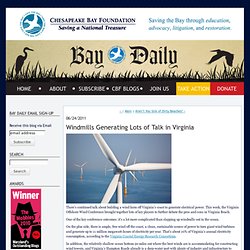 This week, the Virginia Offshore Wind Conference brought together lots of key players to further debate the pros and cons in Virginia Beach. One of the key conference outcomes: it's a lot more complicated than slapping up windmills out in the ocean. On the plus side, there is ample, free wind off the coast, a clean, sustainable source of power to turn giant wind turbines and generate up to 11 million megawatt-hours of electricity per year. Tell world leaders: Tax banks, tackle climate change! Normally when we write, we are writing about big things.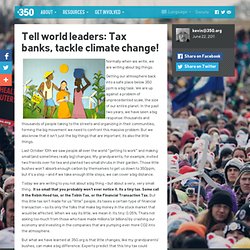 Getting our atmosphere back into a safe place below 350 ppm is a big task. We are up against a problem of unprecedented scale, the size of our entire planet. In the past two years, we have seen a big response: thousands and thousands of people taking to the streets and organizing in their communities, forming the big movement we need to confront this massive problem. Ethanol Subsidies: Senators Amy Klobuchar, John Thune Propose Immediate End To Ethanol Tax Credit. WASHINGTON — Two senators from ethanol-producing states proposed Thursday to immediately end a tax credit for the corn-based fuel and agreeing to support shifting some of that money to debt reduction.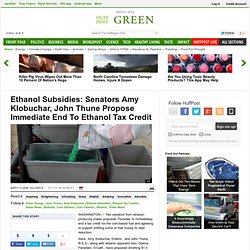 Sens. Amy Klobuchar, D-Minn., and John Thune, R-S.D., along with ethanol opponent Sen. Dianne Feinstein, D-Calif., have proposed diverting $1.3 billion of the money remaining for the tax break this year to pay for debt reduction. And $668 million will be used for incentives for the ethanol and biofuels industries. If accepted by the House and the Obama administration, the compromise could provide a quick path to end the ethanol credit as part of budget negotiations between Congress and the White House.
Why Feed-in Tariffs are an Important Climate Solution: They 'Empower People' By Stephen Lacey on June 3, 2011 at 9:40 am "Why Feed-in Tariffs are an Important Climate Solution: They 'Empower People'" Most readers probably know about Feed-in Tariffs (FITs) by now.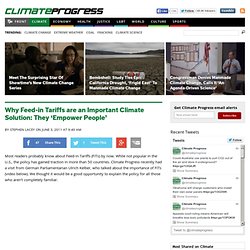 While not popular in the U.S., the policy has gained traction in more than 50 countries. Climate Progress recently had a visit from German Parliamentarian Ulrich Kelber, who talked about the importance of FITs (video below). Rate design, not generation source, drives power prices in Europe. By Climate Guest Contributor "Rate design, not generation source, drives power prices in Europe" And U.S. electricity prices are relatively low Richard W.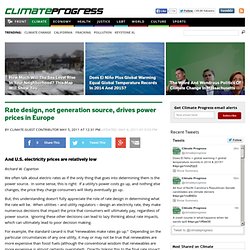 Bill Clinton on Green Jobs: "It's Still the Economy Stupid" By Energy Interns on June 23, 2011 at 9:02 am "Bill Clinton on Green Jobs: "It's Still the Economy Stupid"" by Raj Salhotra While President Obama gets hammered by Republicans for his economic policies and criticized by environmental groups for not doing enough to address climate change, former President Clinton weighed in recently on the intersection of both topics: Green jobs.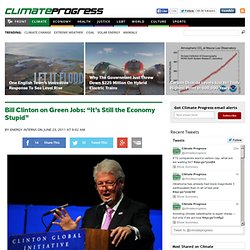 Home Depot's latest small wind deal | Green Tech. Home Depot will begin to offer small wind turbines and installation services from Southwest Windpower, both companies announced today.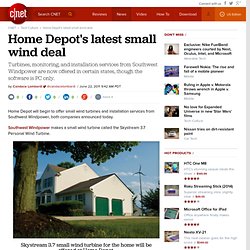 Southwest Windpower makes a small wind turbine called the Skystream 3.7 Personal Wind Turbine. The turbine is rated at 2.4 kilowatts and produces about 400 kilowatt-hours of electricity per month when operating at a minimal wind speed of 12 miles per hour, according to the turbine manufacturer. Scientist Beloved by Climate Deniers Pulls Rug Out from Their Argument - Environment. Today, there was a climate science hearing in the House Committee on Science, Space, and Technology.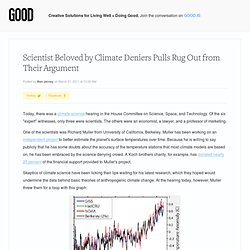 Of the six "expert" witnesses, only three were scientists. The others were an economist, a lawyer, and a professor of marketing. Top 5 Coolest Ways Companies are Integrating Renewable Energy into the Grid. By Stephen Lacey "Top 5 Coolest Ways Companies are Integrating Renewable Energy into the Grid" The top five ways companies are integrating renewables into the grid are: 1. To Help Companies Curb Their Environmental Impact, Enablon Raises $15 Million.
A French software company with U.S. headquarters in Chicago, Enablon, has raised a series A round of $15 million from the Environmental Technology Fund (ETF) in the U.K. Enablon's enterprise software helps companies understand how much water, energy, chemicals and other resources they use, and how much they waste or pollute so that ultimately they can defray costs— financial and otherwise— associated with their environmental footprint.
In April, Enablon gained accreditation from the Carbon Disclosure Project, an independent not-for-profit organization that collects climate change data from thousands of companies. CDP maintains a comprehensive database of corporate greenhouse gas emissions and climate change information, and helps governments and corporations understand the risks of greenhouse gas emissions. According to a CDP report earlier this month: Why the EPA Wants You to Design America's Next Top Environmental App. The Global Innovation Series is supported by BMW i, a new concept dedicated to providing mobility solutions for the urban environment. It delivers more than purpose-built electric vehicles — it delivers smart mobility services.
Visit bmw-i.com or follow @BMWi on Twitter. The Environmental Protection Agency (EPA) is looking to transform the way they develop applications that serve wide and diverse audiences. The Best Apps for the Environment: Bringing EPA Data to the Masses - Kaid Benfield - Life. From Light Bulb Finder to EarthFriend, the best of the entries submitted to a contest organized by the Environmental Protection Agency The federal Environmental Protection Agency has announced winners of a contest to create the best "Apps for the Environment. " After a solicitation earlier this year, the agency drew 38 entries and 2,000 votes on them from website users. The main prerequisite was that entrants base the program at least in part on publicly available EPA data. GE, others invest in wastewater bioreactor | Green Tech. General Electric, NRG Energy, and ConocoPhillips, through their joint venture firm, have invested in a new kind of wastewater treatment technology.
They're backing Israel-based Emefcy, developer of the Megawatter System, which uses bacteria to turn a regular wastewater treatment plant into an electricity-producing bioreactor that produces both clean water and electricity. The electrogenic bioreactor draws on organic matter in the wastewater to supply microbial fuel cells (MFCs). It uses the electrogenic bacteria Shewanella, Geobacter, and Rhodoferax as catalysts to decompose the glutens in the water. The Megawatter System is not built as a standalone plant, but is actually a system of modules that can be installed in existing wastewater treatment plants, according to Emefcy. The MFC modules consist of anodes, membranes, and cathodes, as well as electrical and air connections. Earth to Congress: Clean Energy Could Be a Booming Business By 2030 - Environment.
Can Wind Generate Electricity at $0.04 per Kilowatt-Hour? Richard A. Muller: The Case Against Global-Warming Skepticism. The scientific finding that settles the climate-change debate. Global Investors Managing $20T in Assets Urge Climate Action.
---