Drinks
Superaged spirits: How old is too old for whiskey, gin, and chartreuse?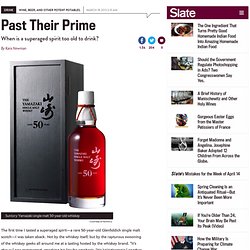 Courtesy of Suntory The first time I tasted a superaged spirit—a rare 50-year-old Glenfiddich single malt scotch—I was taken aback. Not by the whiskey itself, but by the rapturous swooning of the whiskey geeks all around me at a tasting hosted by the whiskey brand. "It's chewy," one commented, smacking his lips for emphasis. "It's kaleidoscopic," another assessed. "It tastes like cigar tobacco and leather … and then caramel and spice … and then I taste oak … and then … " And finally: "It's been almost 10 minutes and I'm still tasting it!"
How to Drink Like a Gentleman: The Things to Do and the Things Not To, as Learned in 30 Years' Extensive Research
SExpand If the moral theologians in practice among us were engined by anything properly describable as apostolic zeal, they would be giving over a large part of their time, in these apocalyptic days, to teaching their catechumens how to drink. For it must be manifest that some such teaching is sorely needed in this great republic. Drinking with skill and taste is no more a natural art than love; either it must be learned by the onerous process of trial and error, or it must be taught.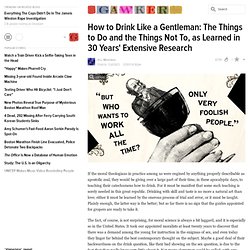 Women Who Have One or Two Drinks a Day are Healthier in Old Age
Updated Nov. 16, 2010 12:01 a.m. ET Women who have an alcoholic drink or two a day in midlife turn out to be healthier overall in their old age, a new study found. Previous research has pointed to health benefits for men and women with regular alcohol use, including lower risk of heart problems. But because of concerns about excess drinking, the American Heart Association and other groups recommend women don't exceed one drink per day. The guideline for men is two drinks.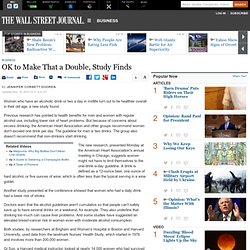 Champagne's capacity to inspire good cheer has been well documented; less often noted are all the great witticisms it has inspired. From the trenchant observations of Winston Churchill ("Meeting Franklin Roosevelt was like opening your first bottle of Champagne; knowing him was like drinking it") to the deathbed commentary of John Maynard Keynes ("My only regret in life is that I didn't drink enough Champagne"), no other wine even comes close to matching the Champagne compendium of clever maxims and memorable...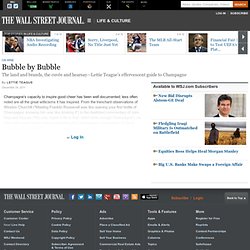 Understanding Champagne, Bubble by Bubble | On Wine by Lettie Teague
CELEBRATE HEMINGWAY... With drink in hand! Ernest Hemingway is nearly as famous for his drinking as he is for his writing. Throughout his collected works, Papa's sensuous explorations of the delights of imbibing engaged both his characters and his readers.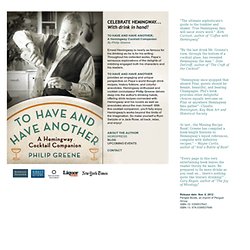 To Have and Have Another; The Hemingway Cocktail Companion
I admit I haven't done a lot of research, but my sense is that there aren't a lot of good casual tequila drinks. You can make margaritas if you want to bust out the blender and the ice. You can do tequila shots if you want to get hammered. But is there any tasty, relaxed tequila option? —Lazy Cuervo Any suggestions for easy to make and carry cocktails to bring to hosts of dinner parties, picnics, or children's birthday parties?
Mixology Mailbag: Drink Through the Heat Portable Tequila Fizzes to Beat the Summer Heat | Food on GOOD
link.newsletter.epicurious.com/view/508992ffdc87ac0b4fac3386u9gs.1ftd/865cb658
You've heard the joke. Question: "How long does leftover wine last?" Answer: "What's leftover wine?" In the interest of promoting moderation and less wine waste, let's tackle this issue.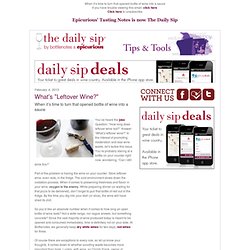 Ice—the most neglected of cocktail ingredients—can ruin a drink or make it come alive. David C. Sampson A friend accompanying me on a minor debauch one recent evening rang up a new bar to see if it was open.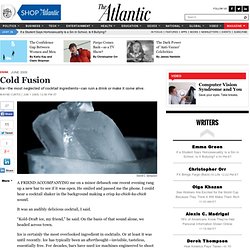 Cold Fusion - Magazine
Women Who Drink Gain Less Weight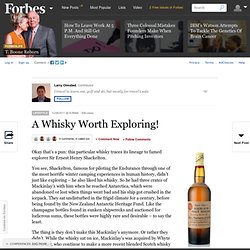 A Whisky Worth Exploring!
Every detail, from the label to imperfections in the glass, was recreated. Okay that's a pun: this particular whisky traces its lineage to famed explorer Sir Ernest Henry Shackelton. You see, Shackelton, famous for piloting the Endurance through one of the most horrific winter camping experiences in human history, didn't just like exploring – he also liked his whisky.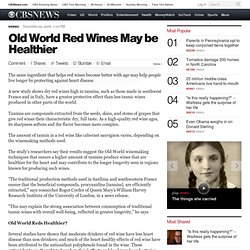 Old World Red Wines May Be Healthier
The same ingredient that helps red wines become better with age may help people live longer by protecting against heart disease. A new study shows dry red wines high in tannins, such as those made in southwest France and in Italy, have a greater protective effect than less tannic wines produced in other parts of the world. Tannins are compounds extracted from the seeds, skins, and stems of grapes that give red wines their characteristic dry, full taste. As a high-quality red wine ages, its sharpness softens and the flavor becomes more complex. The amount of tannin in a red wine like cabernet sauvignon varies, depending on the winemaking methods used.