Tech in Ed
Twitter weekly chat list. Why I'm Asking You Not to Use Laptops – Lingua Franca. At a teaching workshop last week, a new faculty member asked me how I felt about students using laptops in the classroom.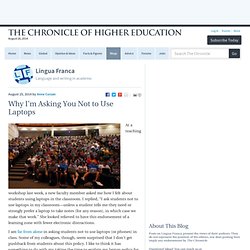 I replied, "I ask students not to use laptops in my classroom—unless a student tells me they need or strongly prefer a laptop to take notes (for any reason), in which case we make that work." She looked relieved to have this endorsement of a learning zone with fewer electronic distractions. I am far from alone in asking students not to use laptops (or phones) in class. Some of my colleagues, though, seem surprised that I don't get pushback from students about this policy. Multitasking while studying: Divided attention and technological gadgets impair learning and memory. Photo by Louisa Goulimaki/AFP/Getty Images Living rooms, dens, kitchens, even bedrooms: Investigators followed students into the spaces where homework gets done.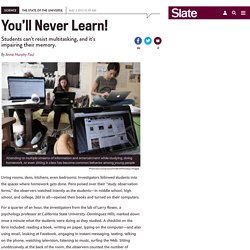 Pens poised over their "study observation forms," the observers watched intently as the students—in middle school, high school, and college, 263 in all—opened their books and turned on their computers. 7 takeaways from #ISTE2014 SmartBlogs. ISTE 2014 broke records this year, with more than 16,000 people registering for the event, and nearly a half million tweets using the #iste2014 hashtag floating around the Twittersphere during the four-day conference recently held in Atlanta, Ga.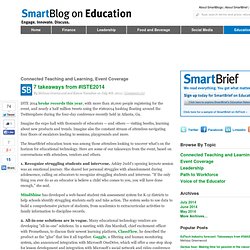 Imagine the expo hall with thousands of educators — and others — visiting booths, learning about new products and trends. Imagine also the constant stream of attendees navigating four floors of escalators leading to sessions, playgrounds and more. The SmartBrief education team was among those attendees looking to uncover what's on the horizon for educational technology. Here are some of our takeaways from the event, based on conversations with attendees, vendors and others. 1. Learn SketchUp. Next-Generation Molecular Workbench. Learn More on Our Blog More information is available on our blog where we get into the nitty-gritty of various aspects of developing Next-Generation Molecular Workbench.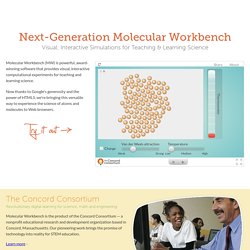 Read more » Contact Us Questions? 9 Characteristics Of The Shift To Learning With Tablets. 9 Characteristics Of The Shift To Learning With Tablets by Terry Heick This post is sponsored by Samsung in Education.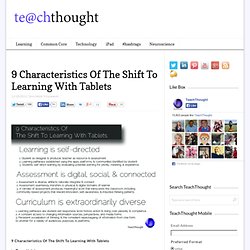 They asked us to write anything we felt was relevant to mobile learning or learning through tablets. We focused on the shift in instructional planning to accommodate laptops in the classroom. Taking notes? Bring a pen, skip the computer. 7 Tips From Effective Teachers Who Use Technology. It's old news that simply getting devices for your classroom is not enough.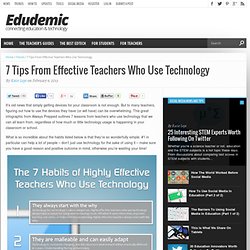 But to many teachers, figuring out how to use the devices they have (or will have) can be overwhelming. This great infographic from Always Prepped outlines 7 lessons from teachers who use technology that we can all learn from, regardless of how much or little technology usage is happening in your classroom or school. What is so incredible about the habits listed below is that they're so wonderfully simple. #1 in particular can help a lot of people – don't just use technology for the sake of using it – make sure you have a good reason and positive outcome in mind, otherwise you're wasting your time! 12 Ways To Integrate (Not Just Use) Technology In Education. There are a couple dozen ways to 'use' technology in education.
There are also a couple dozen ways to integrate technology in education. Think those two things are the same? Think that throwing a few iPads and a few Edudemic blog posts into a classroom is the best way to launch a 1:1 initiative? In case you couldn't guess, it's not. 21st Century Fluency Project. Social Media Infographic (ASCD) Bloomin' Apps. This page gathers all of the Bloomin' Apps projects in one place.Each image has clickable hotspots and includes suggestions for iPad, Google, Android, and Web 2.0 applications to support each of the levels of Bloom's Revised Taxonomy.I have created a page to allow you to share your favorite Web 2.0, iOS, or Android app with others.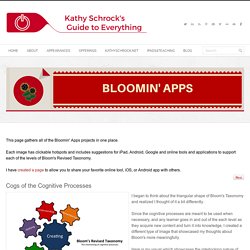 Cogs of the Cognitive Processes Option 1. iPurpose before iPad. The two above images are good examples of purposeful thinking about iPad usage in schools.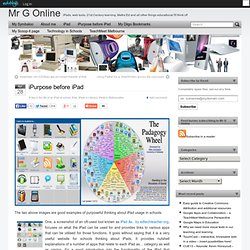 One, a screenshot of an oft-used tool known as iPad As.. by edtechteacher.org, focuses on what the iPad can be used for and provides links to various apps that can be utilised for those functions. It goes without saying that it is a very useful website for schools thinking about iPads. Padagogy Wheel. Padagogy 201. Padagogy 101. Dispelling the Myths About 1:1 Environments.
In my last post, I shared what we learned last year during our 1:1 iPad and Google Apps for Education launches.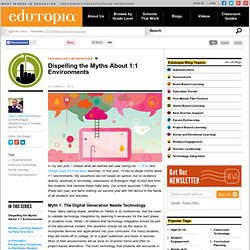 In this post, I'd like to dispel myths about 1:1 environments. My assertions are not based on opinion, but on evidence directly observed in secondary classrooms at Burlington High School and from the students that traverse these halls daily. 6 pillars of a 1:1 initiative SmartBlogs. This past November I was offered the position of director of technology for the Greater Clark County School district in Jeffersonville, Ind. It's a great honor and I'm excited about what the future holds for the community here! Among many other things, I have been asked to look at starting a 1:1 initiative.
So it got me thinking about what pillars I should be looking for and promoting in a 1:1 movement. Here is my list in no certain order: SAMR Ladder- A Wonderful Graphic for Teachers. What will I gain by replacing the older technology with the new technology? Have I added an improvement that could not be accomplished at the fundamental level? Does the modification fundamentally depend on the new technology? Cool Tools for 21st Century Learners, my blogd97cooltools.blogspot.co.uk. 40 iPad Apps for SAMRL Model. We are all passionate educators and teachers keen on using technology to improve our teaching practices and enhance our students learning but the question is how do we know how much technology we are using and what type of technology we should be using ?
Educational Technology and Mobile Learning has already approached these two questions in a previous post in which I published a great check list that every teacher should be using to the technology he/she is using and how they should be using it, you can access this post HERE. Dr Rueben Puentedura, however, came up with a new model which I think most of you are already familiar with; this is called The SAMR model. I have already talked about this model in a post I published last year but this time I am revisiting SAMR with more details.
To start with, SAMR model is a system which you can use to measure your application of technology, or its level of use. Ten Ideas for Teaching Teachers Technology. I had never been to an "unconference" before, but when I heard the organizer of SocialEdCon Unconference introduce the event, I knew I was in for something new: "Write your ideas that you want to discuss on the top of the poster board. Each of you can look at all of the ideas and put check marks beside the ones that interest you, and then that will drive the topics that we discuss today. " I leaned over to my husband, Brad Flickinger, an "unconference expert," and whispered that I'd love to learn more about educating teachers about technology. He told me to go up and write it down. Fifteen minutes later after the milling crowds of educators thinned out from around the poster boards, I saw my idea surrounded by checkmarks.
20 Education Technology Books You Should Be Reading. Kathy Schrock's Guide to Everything.
iPad/Mobile Devices. How to Master Your Internet Presence. What Will The Ed Tech Revolution Look Like? Teaching Innovation Is About More Than iPads in the Classroom. Leadership in Technology is Really Leadership in Learning - EdTech Researcher. The 2012 A-Z List Of Educational Twitter Hashtags. Teacher Vodcasting and Flipped Classroom Network - A professional learning community for teachers using vodcasting in the classroom. The Flip: End of a Love Affair. Arizona schools flipping homework, lectures. Educational Vodcasting - Flipping the Classroom. Flipped learning skepticism: Do students want to have lectures? - Casting Out Nines. Classroom 2.0. The Wejr Board - …a blog about the present and future system of education. 3 Ways to Reconfigure an Old Computer Lab.
7 Apps for Teaching Children Coding Skills.
---