Tech in Ed
There are a couple dozen ways to 'use' technology in education. There are also a couple dozen ways to integrate technology in education. Think those two things are the same? Think that throwing a few iPads and a few Edudemic blog posts into a classroom is the best way to launch a 1:1 initiative? In case you couldn't guess, it's not.
Social Media Infographic (ASCD)
This page gathers all of the Bloomin' Apps projects in one place.Each image has clickable hotspots and includes suggestions for iPad, Google, Android, and Web 2.0 applications to support each of the levels of Bloom's Revised Taxonomy.I have created a page to allow you to share your favorite Web 2.0, iOS, or Android app with others. Cogs of the Cognitive Processes Option 1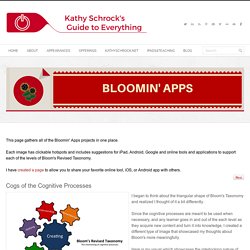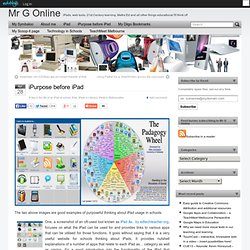 iPurpose before iPad
The two above images are good examples of purposeful thinking about iPad usage in schools. One, a screenshot of an oft-used tool known as iPad As.. by edtechteacher.org, focuses on what the iPad can be used for and provides links to various apps that can be utilised for those functions. It goes without saying that it is a very useful website for schools thinking about iPads.
Padagogy Wheel
Padagogy 201
Padagogy 101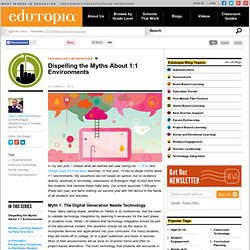 In my last post, I shared what we learned last year during our 1:1 iPad and Google Apps for Education launches. In this post, I'd like to dispel myths about 1:1 environments. My assertions are not based on opinion, but on evidence directly observed in secondary classrooms at Burlington High School and from the students that traverse these halls daily.
Dispelling the Myths About 1:1 Environments
This past November I was offered the position of director of technology for the Greater Clark County School district in Jeffersonville, Ind. It's a great honor and I'm excited about what the future holds for the community here! Among many other things, I have been asked to look at starting a 1:1 initiative. So it got me thinking about what pillars I should be looking for and promoting in a 1:1 movement. Here is my list in no certain order: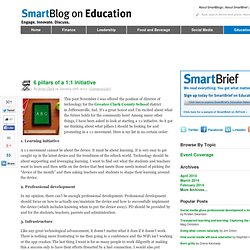 6 pillars of a 1:1 initiative SmartBlogs
What will I gain by replacing the older technology with the new technology? Have I added an improvement that could not be accomplished at the fundamental level? Does the modification fundamentally depend on the new technology? Cool Tools for 21st Century Learners, my blogd97cooltools.blogspot.co.uk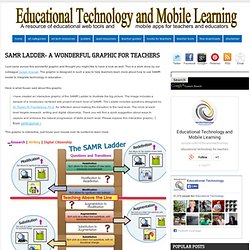 SAMR Ladder- A Wonderful Graphic for Teachers
We are all passionate educators and teachers keen on using technology to improve our teaching practices and enhance our students learning but the question is how do we know how much technology we are using and what type of technology we should be using ? Educational Technology and Mobile Learning has already approached these two questions in a previous post in which I published a great check list that every teacher should be using to the technology he/she is using and how they should be using it, you can access this post HERE. Dr Rueben Puentedura, however, came up with a new model which I think most of you are already familiar with; this is called The SAMR model. I have already talked about this model in a post I published last year but this time I am revisiting SAMR with more details. To start with, SAMR model is a system which you can use to measure your application of technology, or its level of use.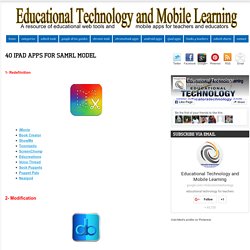 I had never been to an "unconference" before, but when I heard the organizer of SocialEdCon Unconference introduce the event, I knew I was in for something new: "Write your ideas that you want to discuss on the top of the poster board. Each of you can look at all of the ideas and put check marks beside the ones that interest you, and then that will drive the topics that we discuss today." I leaned over to my husband, Brad Flickinger, an "unconference expert," and whispered that I'd love to learn more about educating teachers about technology. He told me to go up and write it down. Fifteen minutes later after the milling crowds of educators thinned out from around the poster boards, I saw my idea surrounded by checkmarks.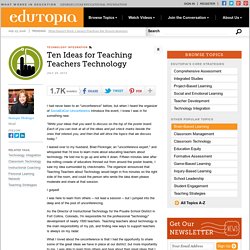 20 Education Technology Books You Should Be Reading
How to Master Your Internet Presence
In the not so distant past, being visible to someone searching for information on an Internet search results page required a fairly decent website and some basic knowledge about search engine optimization. While an agency website is still the cornerstone of your Internet presence, it is no longer nearly enough. In today's interconnected world, being visible to prospects that are searching for insurance information requires a much broader Internet presence than a single website. Following is a list of some of the areas that every insurance agency needs to explore in order to expand their visibility and become "findable" on the Internet.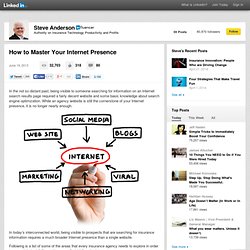 During the past 40 years, accounting for inflation, we have nearly tripled the amount of money we spend per student in public K-12 education. It was roughly $4,000 in 1971, and last year amounted to $11,000 per student. Over that same period time, our students' math and verbal test scores have remained unchanged. I am no Warren Buffett, but I can comfortably say to you that that is a lousy return on investment. In an increasingly competitive world, it is clear that our education system--as currently designed--isn't sustainable.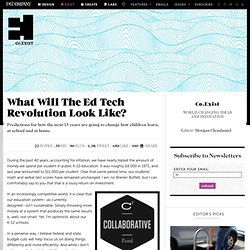 MediaShift . Teaching Innovation Is About More Than iPads in the Classroom
Innovation is the currency of progress. In our world of seismic changes, innovation has become a holy grail that promises to shepherd us through these uncertain and challenging times. And there isn't a more visible symbol of innovation than the iPad.
Last week, I had the privilege of facilitating a workshop for school and system leaders: 21st Century School Leadership, Leading Change in Changing Times. We had 18 participants from all over the country and around the world: 2 from Qatar, 2 from Saudi Arabia, 2 from Texas, 3 from New York, 1 from India, and then one each from Georgia, Minnesota, New Jersey, New Hampshire, Maine, and Massachusetts. It was great to have this group of experienced educators from around the world coming together to share their ideas, and I was also lucky to have three great school leaders coming in as guests: Greg Kulowiec of Plymouth South, Patrick Larkin of Burlington High, and Chris Lehmann of Science Leadership Academy. The core theme of the workshop is that technology needs to be in the service of learning. Technology leadership in schools isn't about buying stuff and it isn't really about getting people to use technology.
Leadership in Technology is Really Leadership in Learning - EdTech Researcher
We got so many additions and updates to our 2011 list we thought it was time to bring you the most up-to-date list for 2012. So, without further ado, here's the 2012 A-Z list of educational Twitter hashtags. We went through all the comments on the 2011 version , wrote down all the Twitter and Facebook updates, and compiled this list over the course of several months. What follows is our best effort to bring you the biggest and baddest list of hashtags. I'm sure we still missed some as new hashtags seemingly pop up every day.
Welcome to the Flipped Learning Network™ Ning, the first online community of practice FOR and BY Flipped Educators! ________________________________________________________________ Want to Join?
The Flip: End of a Love Affair
Arizona schools flipping homework, lectures
The Wejr Board - …a blog about the present and future system of education.
3 Ways to Reconfigure an Old Computer Lab