iPad/Mobile Devices
Get flash to fully experience Pearltrees
Apple reports that 1.5 million iPads are used in K12. Given that there are approximately 55 million students in K12, the iPad has penetrated K12 faster than any other computing technology.
ARLINGTON, Va. — On a warm spring morning, a pair of first-grade boys enter the computer lab at Jamestown Elementary, a traditional-looking red-brick neighborhood school that's educated generations of students.
Mobile Computing | Spotlight
Flickr: Flickingerbrad By B. Justin Reich The Someday/Monday dichotomy captures one of the core challenges in teacher professional development around education technology. One the one hand, deep integration of new learning technologies into classrooms requires substantially rethinking pedagogy, curriculum, assessment, and teacher practice (someday). For technology to make a real difference in student learning, it can't just be an add-on.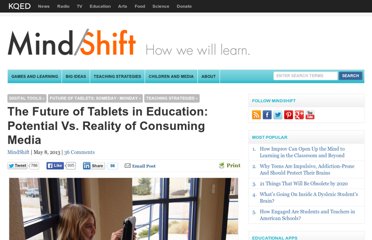 Mobile Devices in the Classroom
Getty Just a few years ago, the idea of using a mobile phone as a legitimate learning tool in school seemed far-fetched, if not downright blasphemous.
April 2, 2012, 2:53 p.m.
FETC 2013 | Feature
As mentioned earlier in this blog, I have been experimenting with incorporating Project-Based Learning into my teaching.