diversität_Kulturtheorie
Get flash to fully experience Pearltrees
Post-Dramatic Theater and the Bleeding Heart of the Seventies Translated by Lucy Renner Jones.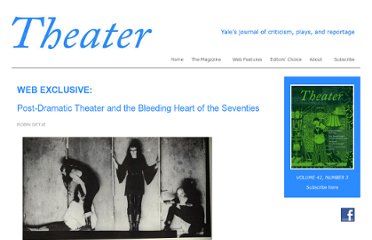 Korruption. Berlin, 2011 Elisabeth Wagner, Burkhardt Wolf (Hrsg.)
The Swiss artists-in-labs Program is a collaboration between the Zurich University of the Arts ZHdK , Institute for Cultural Studies in the Arts ICS and the Federal Office for Culture (FOC) .
Definitionen des Kulturbegriffs sind so zahlreich und vielfältig, dass man schon aus diesem Grund Erwartungen an eine verbindliche und "richtige" Bedeutungsregelung enttäuschen muss. Amerikanische Forscher haben in den 1960er Jahren bereits über 250 unterschiedliche Bedeutungen von 'Kultur' zusammengestellt. In Deutschland hat der Duden etwa zur gleichen Zeit vor dieser Bedeutungsvielfalt kapituliert: Waren bis zur 15.Auflage (1961) unter dem Stichwort "Kultur" noch Eintragungen wie "Gesamtheit der geistigen und der künstlerischen Lebensäußerungen", "verfeinerte Lebensweise", "Zucht von Bakterien", "Pflege und Bebauung des Bodens" oder "junge Bestände" (Forstwirtschaft) notiert, so wurde in den nachfolgenden Auflagen auf Definitionen gänzlich verzichtet.
Geb. 1957 in Hamburg. In den 80er Jahren Redakteur und Herausgeber von Musikzeitschriften, in den 90er Hochschullehrer als Gastprofessor oder Lehrbeauftragter u.a. in Frankfurt, Stuttgart, Pasadena, Offenbach, Gießen, Weimar, Bremen, Wien, St. Louis, Köln, Los Angeles und Gainesville. 1998 - 2006 Professor für Ästhetische Theorie/Kulturwissenschaften an der Merz-Akademie, Stuttgart, seit 2006 Professor für Theorie, Praxis und Vermittlung von Gegenwartskunst am Institut für Kunst- und Kulturwissenschaften der Akademie der bildenden Künste Wien
2013: "Werke VIII: Willkürlich und anlassfrei zusammengestellt" [Kolumne mit Musikrezensionen; über Yannis Kyriakides; Mario Lavista; Crosby, Stills, Nash & Young; Ivo Malec], in: Spex #344, April 2013, S. 101
Le quodien italien La Repubblica parle "d'immense vide au sommet du FMI, justement dans un moment crucial pour le sauvetage de la Grèce et la stabilité de la zone euro".