Salaries and Occupational Statistics
Dictionary of Occupational Titles DOT - Job Descriptions - www.occupationalinfo.org
SalaryExpert.com - Salary Survey, Compensation Data, Salaries, and Career Planning
Salary List of Millions Jobs, Starting Salary, Average Salary, Pay Scale – Real Job Salaries
Mapping Your Future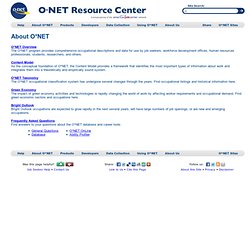 O*NET Overview The O*NET program provides comprehensive occupational descriptions and data for use by job seekers, workforce development offices, human resources professionals, students, researchers, and others. Content Model As the conceptual foundation of O*NET, the Content Model provides a framework that identifies the most important types of information about work and integrates them into a theoretically and empirically sound system. O*NET Taxonomy The O*NET occupational classification system has undergone several changes through the years.
O*NET Resource Center - About O*NET
Guide to Salaries
JobStar now links to over 300 online salary surveys.