Salaries and Occupational Statistics
U.S. Bureau of Labor Statistics. Dictionary of Occupational Titles DOT - Job Descriptions - www.occupationalinfo.org. Occupational Outlook Handbook, 2010-11 Edition. Salary.com. SalaryExpert.com - Salary Survey, Compensation Data, Salaries, and Career Planning.
Salary List of Millions Jobs, Starting Salary, Average Salary, Pay Scale – Real Job Salaries. Mapping Your Future. O*NET Resource Center - About O*NET. O*NET Overview The O*NET program provides comprehensive occupational descriptions and data for use by job seekers, workforce development offices, human resources professionals, students, researchers, and others.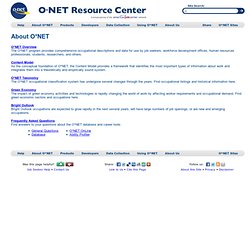 Content Model As the conceptual foundation of O*NET, the Content Model provides a framework that identifies the most important types of information about work and integrates them into a theoretically and empirically sound system. O*NET Taxonomy The O*NET occupational classification system has undergone several changes through the years. Guide to Salaries. JobStar now links to over 300 online salary surveys.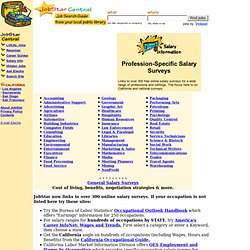 If your occupation is not listed here try these sites: Try the Bureau of Labor Statistics' Occupational Outlook Handbook which offers "Earnings" information for 250 occupations. For salary ranges for hundreds of occupations by STATE, try America's Career InfoNet: Wages and Trends. First select a category or enter a Keyword, then choose a state.
---