Massachusetts
Mass.Gov. Department of Transportation (Registry of Motor Vehicles) Division of Professional Licensure. Department of Revenue. No Active Alerts The Official Website of the Department of Revenue (DOR) Department of Revenue About DOR.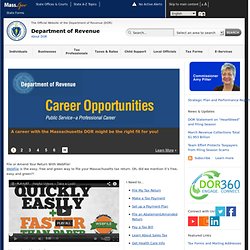 Departement of Education. School and District Profiles. Citizens' Guide To State Services. Massachusetts Trial Court Law Libraries. Massachusetts General Laws. MBTA.com > Official Website for Greater Boston's Public Transportation System. Comm-PASS (Goods/Service Contracts in MA)
Valleyworks Career Center.
---