Funding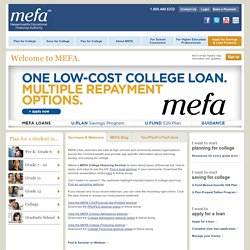 MEFA's free seminars are held at high schools and community organizations across the commonwealth and provide age-specific information about planning, saving and paying for college. Visit us in your community. Can't make it in person?
Student Savings, Loans & 529 College Plan | MEFA - Massachusetts Educational Financing Authority
The mission of the Massachusetts Office of Student Financial Assistance is to promote and enhance access to higher education by delivering quality student financial aid information and services to residents of the Commonwealth, and thus ensuring that they have an opportunity to enrich their lives and contribute to the economic development and social progress of the state. The Office of Student Financial Assistance (OSFA) is primarily responsible for the management and oversight of all state funded financial aid programs and advises the Board of Higher Education about financial aid policy matters of concern to the Commonwealth of Massachusetts. In addition to its financial aid responsibilities, OSFA is the principal agency for promoting access to higher education through early awareness initiatives that foster the recognition of college as a viable postsecondary option and the availability of financial aid resources to help students and families meet college costs.
MA Office of Student Financial Assistance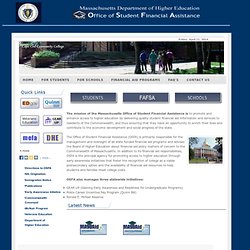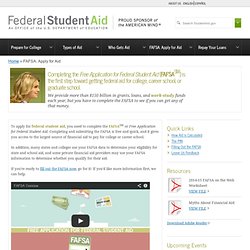 FAFSA: Student Aid on the Web
To apply for federal student aid, you need to complete the FAFSASM or Free Application for Federal Student Aid. Completing and submitting the FAFSA is free and quick, and it gives you access to the largest source of financial aid to pay for college or career school. In addition, many states and colleges use your FAFSA data to determine your eligibility for state and school aid, and some private financial aid providers may use your FAFSA information to determine whether you qualify for their aid. If you're ready to fill out the FAFSA now, go for it!