Business Resources
Top News Archive. New Zealand ruling party on verge of huge win Polls indicate New Zealand could see its most lopsided election in 60 years this month, giving Prime Minister John Key freer rein to sell some government assets to balance the budget.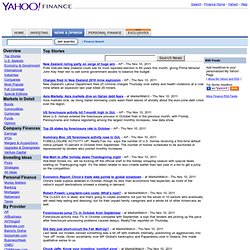 Charges filed in New Zealand 2010 mine explosion New Zealand's Labour Department filed 25 criminal charges Thursday over safety and health violations at a coal mine where an explosion last year killed 29 miners. US foreclosure activity hit 7-month high in Oct. More U.S. homes entered the foreclosure process in October than in the previous month, with Florida, Pennsylvania and Indiana registering among the largest monthly increases, new data show. Top 20 states by foreclosure rate in October. Trademarks Home. WARNING: Non-USPTO Solicitations May Resemble Official USPTO Communications Be aware that private companies not associated with the USPTO often use trademark application and registration information from the USPTO's databases to mail or e-mail trademark-related solicitations (samples of non-USPTO solicitations included).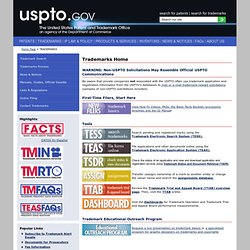 First-Time Filers, Start Here. ThomasNet - Product Sourcing and Supplier Discovery Platform.
BigCharts: Stock Charts, Screeners, Interactive Charting and Research Tools. Small Business Credit | Dun and Bradstreet Credibility Corp. The Federal Reserve Bank of Minneapolis. Consumer Price Index (CPI) The Consumer Price Indexes (CPI) program produces monthly data on changes in the prices paid by urban consumers for a representative basket of goods and services.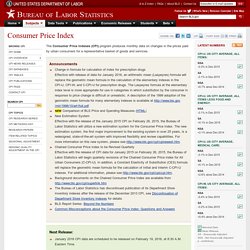 Consumer Price Index April 15, 2014 On a seasonally adjusted basis, the Consumer Price Index for All Urban Consumers increased 0.2 percent in March after rising 0.1 percent in February. The index for all items less food and energy also rose 0.2 percent in March after increasing 0.1 percent in February. Business.com. CEO Express. U.S. Better Business Bureau. U.S. Bureau of Labor Statistics. U.S. Chamber of Commerce. U.S. Securities and Exchange Commission (Home Page)
---