武术
Wushu Stances. Martial Development — Martial arts for personal development. Unlocking the Warrior Spirit: Duckling Edition April 28th, 2011 · 18 Comments It's not the size of the duck in the fight, but the size of the fight in the duck that counts.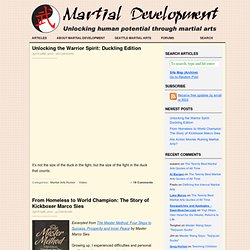 Categories: Martial Arts Humor · Video From Homeless to World Champion: The Story of Kickboxer Marco Sies. Sancaidao. Shaolin warrior training. My Top 20 Must See Kung Fu Movies 5 - 1 (Part 4 of 4) 6 Great Martial Arts for Killing a Man With Your Bare Hands. Were you one of those guys who took Tae Kwon Do or Karate lessons as a kid?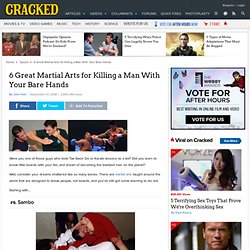 Did you learn to break little boards with your fist, and dream of becoming the baddest man on the planet? Well, consider your dreams shattered like so many bones. There are martial arts taught around the world that are designed to break people, not boards, and you've still got some learning to do, kid. Starting with...
Baguazhang. Baguazhang (Chinese: 八卦掌; pinyin: Bàguà Zhǎng) is one of the three main Chinese martial arts of the Wudang school, the other two being Taijiquan and Xingyiquan.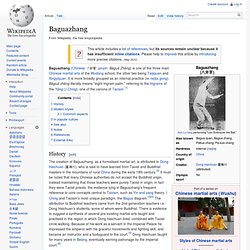 It is more broadly grouped as an internal practice (or neijia gong). Bāguà zhǎng literally means "eight trigram palm," referring to the trigrams of the Yijing (I Ching), one of the canons of Taoism.[1] History[edit] Las Artes Hermanas de Baguazhang y Xing Yi Quan. Sabemos que estos artículos son leídos y tenidos muy en cuenta incluso por estudiantes y profesores de otras escuelas, según nos han manifestado por correo privado (que agradecemos), es así que con mucho gusto compartimos desde la Escuela Tradicional WuHsingChuan el siguiente.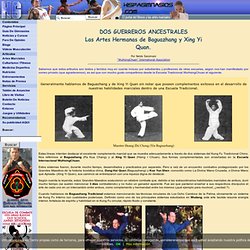 Estas líneas intentan destacar el excelente complemento marcial que se muestra adecuadamente a través de dos sistemas del Kung Fu Tradicional Chino. Nos referimos al Baguazhang (Pa Kua Chang) y al Xing Yi Quan (Hsing I Chuan). Wudi 2008 Nanning 1st Place Spear.
---