Startups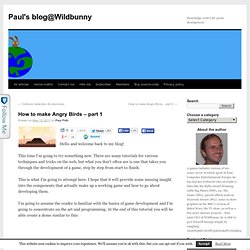 How to make Angry Birds – part 1 | Paul's blog@Wildbunny
Hello and welcome back to my blog! This time I'm going to try something new. There are many tutorials for various techniques and tricks on the web, but what you don't often see is one that takes you through the development of a game, step by step from start to finish. This is what I'm going to attempt here. I hope that it will provide some missing insight into the components that actually make up a working game and how to go about developing them.
How to hire a programmer to make your ideas happen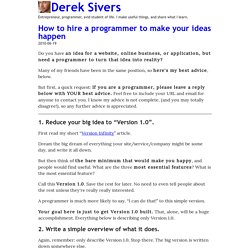 Do you have an idea for a website, online business, or application, but need a programmer to turn that idea into reality? Many of my friends have been in the same position, so here's my best advice , below. But first, a quick request: If you are a programmer, please leave a reply below with YOUR best advice. Feel free to include your URL and email for anyone to contact you. I know my advice is not complete, (and you may totally disagree!), so any further advice is appreciated.
Re-inventing finance: an emerging (digital) reformation by Sean Park on Prezi
Startups: How to Communicate Traction... by Brendan Baker - Quora
How to start a Daily Deals Business (Part 1) // Matchbook
This blog post looks at the high level goals of a SaaS business and drills down layer by layer to expose the key metrics that will help drive success. Metrics for metric's sake are not very useful. Instead the goal is to provide a detailed look at what management must focus on to drive a successful SaaS business. For each metric, we will also look at what is actionable .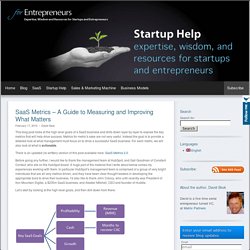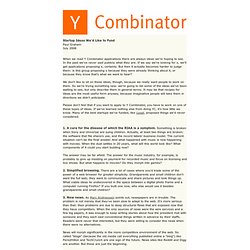 Startup Ideas We'd Like to Fund Paul Graham July 2008 When we read Y Combinator applications there are always ideas we're hoping to see. In the past we've never said publicly what they are. If we say we're looking for x, we'll get applications proposing x, certainly.
Web 3.0 (from social to big data).  Are you... | Josh Birkholz
Motivating Virality in Facebook Games
[Editor's note: Brenda Brathwaite is a game designer with over 20 years of experience and credits on classic titles like Jagged Alliance and the Wizardry series. She is currently creative director at social game developer LOLapps, and a regular Inside Social Games contributor.] Getting players to post to the viral channel is a challenge every game designer faces when he or she is making Facebook games. It's known that players are most likely to post when they've just started a game, but what motivates returning players? Four things: It helps me.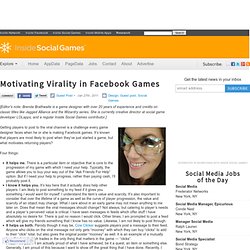 Top 5 Elements for Virality of Social Games | Demystifying Digital Commerce
For today's social game developer, virality is key to driving user growth and lowering customer acquisition costs. Here's a look at five elements that boost the virality of social games: 1. Publishing updates about the game through users Every game developer should allow users to publish their top scores or milestones on their news feeds and Twitter streams. By doing so, their games will be promoted to all of their users' friends and likely attract new players. For example, Zynga's Texas Hold'Em Poker lets its players announce to all of their friends when they get Three of a Kind, a Flush or another great hand.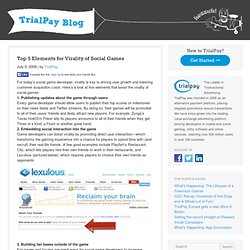 At the Social Gaming Summit in San Francisco today, the overall consensus among many speakers and attendees was that viral growth on Facebook isn't dead yet, but it is definitely dying slowly.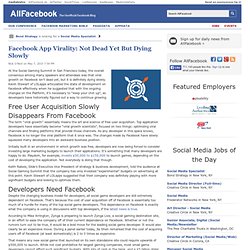 Facebook App Virality: Not Dead Yet But Dying Slowly
Designing a viral loop has multiple stages Viral loops have been featured in mainstream media and there's even a book coming out on it – but the step-by-step design of creating a new loop remains obscure, and for good reason.
5 crucial stages in designing your viral loop | Andrew Chen (@andrewchen)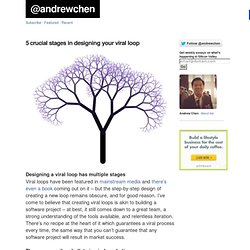 BIG TRENDS YOU BETTER KNOW ABOUT: Free Advice From Expensive Consultants
4c - Four Cups - The Need for Speed
Your scarcest resource as a lean startup is undoubtably time. There's never enough of it. Sure, you could raise more, but that won't help you against your competitor who seems to have found his market fit while you were charming an investor. No matter what, somehow you're always in the second half, 10 minutes left on the clock, the score still 0:0 and the competition has the ball.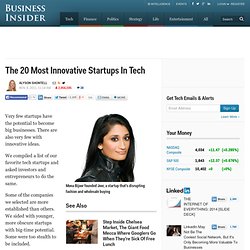 Ben Milne founded Dwolla Company: Dwolla
20 Innovative Startups
Fun Friday: Startup Creation Stories
I absolutely love Paul Graham 's story of how Y Combinator started .
A Conversation with Peter Thiel
Francis Fukuyama: I'd like to begin by asking you about a point you made about there being certain liberal and conservative blind spots about America. What did you mean by that? Peter Thiel: On the surface, one of the debates we have is that people on the Left, especially the Occupy Wall Street movement, focus on income and wealth inequality issues—the 99 percent versus the 1 percent.
Racism And Meritocracy
Editor's note: Guest contributor Eric Ries is the author of The Lean Startup . Follow him @ericries . Unless you've been living under a rock, you can't have missed the recent dust-up over race and Silicon Valley. Like almost every discussion of diversity and meritocracy in this town, it turned ugly fast. One side says: "All I see is white men. Therefore, people like Michael Arrington must be racist."
How Three Germans Are Cloning the Web
A purple rooster sculpture made from recycled grape Fanta bottle labels. Clocks designed to hang in corners. Bauhaus posters from the 1920s. Hand-painted vintage typewriters. These are some of the carefully curated objects for sale on Fab.com, the fast-growing flash-deal site for designer goods. Launched out of a loft in New York City's Garment District last June, Fab had sales of $20 million in its first six months and is on track to earn $100 million in 2012.
How I built 7books in under 4 weeks | 7books blog
Update: This post is slightly out of date now since V2 of 7books is now live. See the "making of" post for V2 here: http://www.7bks.com/blog/596001 Let me tell you a story.
Angry Birds, Farmville and Other Hyperaddictive 'Stupid Games'