Blogs
Grim Times. Who the hell is this guy? Thoughts on being a career VC. The other day, I got interviewed for Business Insider.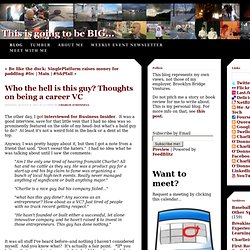 It was a good interview, save for that little vein that I had no idea was so prominently featured on the side of my head--but what's a bald guy to do? At least it's not a weird fold in the back or a dent at the top. Anyway, I was pretty happy about it, but then I got a note from a friend that said, "Don't sweat the haters. " I had no idea what he was talking about until I saw the comments: "Am I the only one tired of hearing from/abt Charlie?
WallStreetOasis.com | Your Finance Community. Advice on Finance Interviews and Careers in Finance. Private Equity Blog - Venture Capital - Startups. Private Equity Beat. Associated Press Despite challenging investment environments in many emerging markets these days, limited partners are still bullish about Africa, with 85% of global LPs polled in a survey by the African Private Equity and Venture Capital Association saying they expect to increase their exposure to African private equity over the next two years.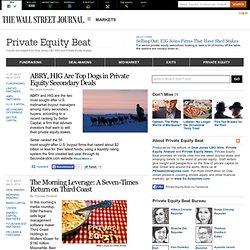 AVCA, which polled 48 LPs collectively representing more than $150 billion in global private equity assets under management, said 70% expect returns from Africa to outperform other emerging markets, with nearly a quarter believing African private investments to have 5% or more return premium. Going Private. The Leveraged Sell-Out. Mergers, Acquisitions, Venture Capital, Hedge Funds - DealBook.
Private Equity Portfolio Operations. Deal Journal. Dish Network Corp.'s surprise $25.5 billion bid for Sprint Nextel Corp. may leave the No. 4 carrier T-Mobile with a tougher hand to play in a consolidating wireless market.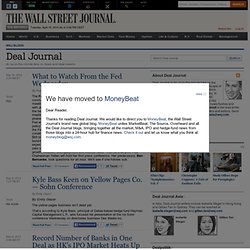 Associated Press Sprint's deal with satellite-TV provider Dish would likely include Sprint's planned acquisition of Clearwire Corp., bringing together a massive amount of spectrum under a company with a large pile of debt. PeHUB. Dealbreaker: A Wall Street Tabloid – Business News Headlines and Financial Gossip.
---