Blogs
Grim Times
Since the announcement yesterday that Japan-based Softbank is making a bid for majority control of Sprint-Nextel, the analysts have been busy churning through the implications. But the simplest and clearest one is this: The US wireless market will no longer be a tightly-controlled duopoly. What's even better, Softbank has the ambition, experience and sheer chutzpah to be what this market has always pined for but never had – a challenger who will shake things up.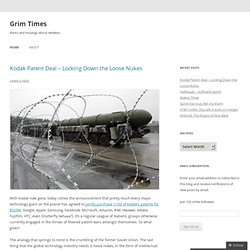 Who the hell is this guy? Thoughts on being a career VC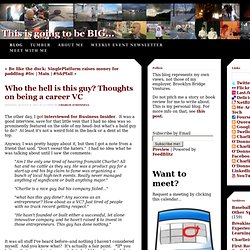 The other day, I got interviewed for Business Insider. It was a good interview, save for that little vein that I had no idea was so prominently featured on the side of my head--but what's a bald guy to do? At least it's not a weird fold in the back or a dent at the top. Anyway, I was pretty happy about it, but then I got a note from a friend that said, "Don't sweat the haters." I had no idea what he was talking about until I saw the comments: "Am I the only one tired of hearing from/abt Charlie?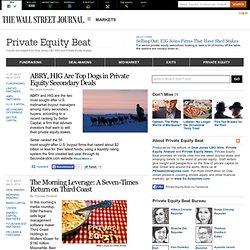 Private Equity Beat
Associated Press Despite challenging investment environments in many emerging markets these days, limited partners are still bullish about Africa, with 85% of global LPs polled in a survey by the African Private Equity and Venture Capital Association saying they expect to increase their exposure to African private equity over the next two years. AVCA, which polled 48 LPs collectively representing more than $150 billion in global private equity assets under management, said 70% expect returns from Africa to outperform other emerging markets, with nearly a quarter believing African private investments to have 5% or more return premium.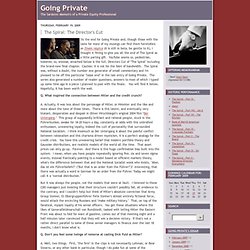 Normally, I am one of Barry Ritholtz' fans, often indulging "The Big Picture"'s expansive prose and deft selection of this chart, that graph or the other political-economy cartoon that collectively has its finger right on the pulse of this week's market week after week. I fear, however, the tenure of my fandom is at an end, perhaps belatedly, now that I have absorbed his piece "RIP Chicago School of Economics: 1976-2008." Mr. Ritholtz's Pre-Christmas missive gores Milton Friedman, citing a winding Bloomberg article by John Lippert, whose Chicago beat for Bloomberg often has him penning obiter dicta that includes the latest gossip relating to the Pritzker family, and their glowing approval at the selection of cousin Penny Pritzker as Obama's national campaign-finance chairwoman, the climbing murder rate in Obama's "backyard," and the controversy over the Milton Friedman Institute at the University of Chicago.
Going Private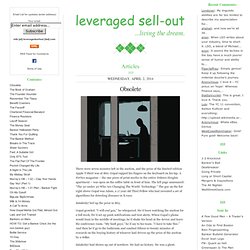 There were seven minutes left in the auction, and the price of the limited edition Apple T-Shirt was at $60. Gopal rapped his fingers on the keyboard on his lap. A Forbes magazine – the one piece of print media in the entire Dolores Heights apartment – was open on the coffee table in front of him. The left page announced: "The 30 under 30 Who Are Changing The World: Technology." The guy on the list right above Gopal was Adam, a 17 year old Thiel Fellow who had invented a set of algorithms for detecting diseases in X-rays. datakid97 bid up the price to $65.
The Leveraged Sell-Out
Hedge Fund Advertising Off to a Slow Start, Survey Finds Only a fraction of hedge funds and private equity firms have even registered under a new statute that gives them the ability to broadly solicit capital. Read more… TPG and Others Said to Agree to Invest in Airbnb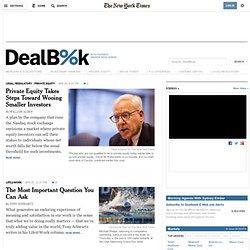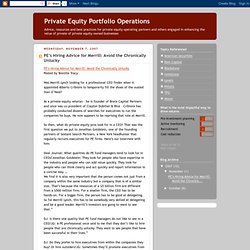 Private Equity Portfolio Operations
PE's Hiring Advice for Merrill: Avoid the Chronically Unlucky Posted by Tennille Tracy Was Merrill Lynch looking for a professional CEO finder when it appointed Alberto Cribiore to temporarily fill the shoes of the ousted Stan O'Neal? As a private-equity veteran – he is founder of Brera Capital Partners and once was co-president of Clayton Dubilier & Rice – Cribiore has probably conducted dozens of searches for executives to run the companies he buys. He now appears to be reprising that role at Merrill. So then, what do private-equity pros look for in a CEO? That was the first question we put to Jonathan Goldstein, one of the founding partners of Sextant Search Partners, a New York headhunter that regularly recruits executives for PE firms.
Deal Journal
Dish Network Corp.'s surprise $25.5 billion bid for Sprint Nextel Corp. may leave the No. 4 carrier T-Mobile with a tougher hand to play in a consolidating wireless market. Associated Press Sprint's deal with satellite-TV provider Dish would likely include Sprint's planned acquisition of Clearwire Corp., bringing together a massive amount of spectrum under a company with a large pile of debt.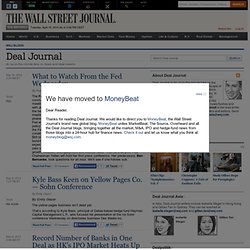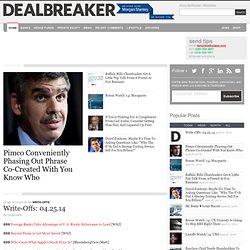 Australia Model Curbs Speed as CEO Says U.S. Too Far Gone (Bloomberg) In Australia, where high-frequency trading firms are half as pervasive as in the U.S., the head of the biggest stock exchange has a message for Americans who would rein them in: forget it. "The way the U.S. market structure has been set up creates serious problems," Elmer Funke Kupper, the chief executive officer of Sydney-based ASX Ltd., told Bloomberg News on the sidelines of a conference March 24. Efforts to rectify that are "very late and unlikely to succeed," he said.