Photography
5 Creative Studio Lighting Setups- Google+ Photographers Conference. Kyle.Thompson's Photostream. Creative Dad Takes Crazy Photos Of Daughters. If you are tired of posed, stiff and cheesy family portraits, then take a look at these incredibly creative pictures taken by Jason Lee.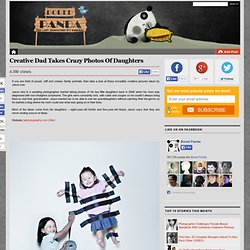 Jason who is a wedding photographer started taking photos of his two little daughters back in 2006 when his mom was diagnosed with non-Hodgkins lymphoma. The girls were constantly sick, with colds and coughs so he couldn't always bring them to visit their grandmother. Jason wanted her to be able to see her granddaughters without catching their kid germs so he started a blog where his mom could see what was going on in their lives. Most of the ideas come from his daughters – eight-year-old Kristin and five-year-old Kayla. 22 Professional Photoshop Image Enhancing Tutorials. Adobe Photoshop is the premier tool for digital artists when it comes to professionally enhancing images.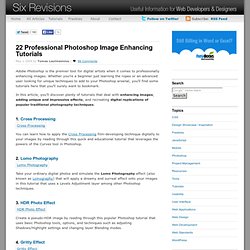 Whether you're a beginner just learning the ropes or an advanced user looking for unique techniques to add to your Photoshop arsenal, you'll find some tutorials here that you'll surely want to bookmark. In this article, you'll discover plenty of tutorials that deal with enhancing images, adding unique and impressive effects, and recreating digital replications of popular traditional photography techniques. 1. Cross Processing. Life and Pictures in the Wakhan Corridor. Editorial photography. Kai Streets Visuals. Understanding the Beauty Dish. Using ND Filters with Strobes: Ep 212: Digital Photography 1 on 1. Catalogue photography lighting setup explained in this tutorial. Wedding Photographer, Saiful Nang - Behind the Scene 1. Washington DC Wedding Photographer - Wedding Photojournalism - DC, Virginia, Maryland, New York, Pennsylvania, Oregon - Wedding Photojournalist - His And Her Photography - Creative Storytelling.
Why settle for a photography package that wasn't made specifically for you?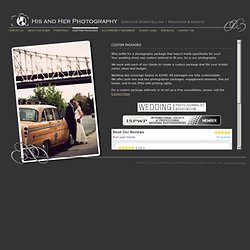 Your wedding dress was custom tailored to fit you. So is our photography. We work with each of our clients to create a custom package that fits your artistic vision, ideas and budget. Wedding day coverage begins at $2495. All packages are fully customizable. Albums by Pepe Orellana Wedding Photography. Digital Photography: One on One. Welcome to YouTube!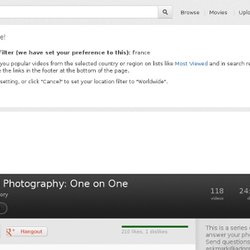 The location filter shows you popular videos from the selected country or region on lists like Most Viewed and in search results.To change your location filter, please use the links in the footer at the bottom of the page. Click "OK" to accept this setting, or click "Cancel" to set your location filter to "Worldwide". These 50 Photos Will Blow you Away - StumbleUpon. Great news today: we will start a series of showcases that are meant to make the jaws drop!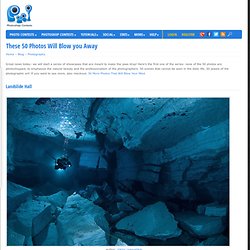 Here's the first one of the series: none of the 50 photos are photoshopped, to emphasize the natural beauty and the professionalism of the photographers. 50 scenes that cannot be seen in the daily life, 50 jewels of the photographic art! If you want to see more, also checkout: 50 More Photos That Will Blow Your Mind Landslide Hall Clouds on Fire. Location Lighting for the Wedding Photographer by Ken Sklute. Outdoor Speedlight Portraits: Ep. 201: Digital Photography 1 on 1. Snapfactory's Channel. Traditional Lighting Styles: Ep 206: Digital Photography 1 on 1. Digital Photography 1 on 1: Episode 75: Panoramas: Adorama Photography TV.
---