Music
Rhapsody :: Subscription Music Service: Listen All You Want: Millions of Songs. Search for Music Using Your Voice by Singing or Humming, View Music Videos, Join Fan Clubs, Share with Friends, Be Discovered and Much More For Free! - midomi.com. Home - Clayblob Music. Home - Clayblob Music. YTMND - 3.141592653589793... YouTube - Broadcast Yourself. 92PROFM.COM - Music | Entertainment News | Prizes | Events | Contests. Pandora. Parry Gripp Song Of The Week Most Popular. Online Music Notation Software. Your music, everywhere.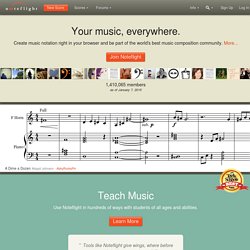 Create music notation right in your browser and be part of the world's best music composition community. More... Noteflight® is an online music writing application that lets you create, view, print and hear professional quality music notation right in your web browser. Write music on your computer, tablet or smartphone, share with other users, or embed in your own pages. Sign up for a free account, or purchase a Noteflight Crescendo subscription to take your creativity to the next level.Try the demo.
iTunes - Everything you need to be entertained.
---