Asiakkaat
Sales Jobs of the Future | BNET. Last Updated Oct 28, 2011 5:39 PM EDT In my recent post "Sales Jobs: Not Just Hunters and Farmers" I provided some observations about the future of selling based upon research conducted at The Chally Group.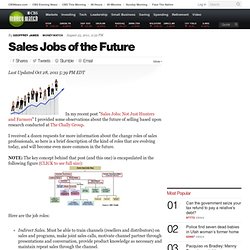 I received a dozen requests for more information about the change roles of sales professionals, so here is a brief description of the kind of roles that are evolving today, and will become even more common in the future. NOTE: The key concept behind that post (and this one) is encapsulated in the following figure (CLICK to see full size): Here are the job roles: Sales Speciality Map.
Tarjouspyynnöt
Asiakas. Asiakas on henkilö, joka ostaa tuotteen tai palvelun sekä suorittaa sopimuksen mukaisen maksun.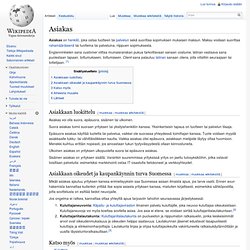 Maksu voidaan suorittaa rahamääräisenä tai tuotteina tai palveluina, riippuen sopimuksesta. Englanninkielen sana customer viittaa muinaisranskan pukua tarkoittavaan sanaan costume, latinan vastaava sana puolestaan tapaan, tottumukseen, tottumiseen. Client-sana palautuu latinan sanaan cliens, jolla viitattiin seuraajaan tai tottelijaan. [1] Asiakkaan luokittelu[muokkaa | muokkaa wikitekstiä] Asiakas voi olla suora, epäsuora, sisäinen tai ulkoinen.
Vaikea asiakas. Asiakas on aina oikeassa – NOT – Aasiakas on aina väärässä. Aasiakas.net - Aasiakas on aina väärässä!
Prospekti. Kaupat. Referenssi.
---