Crochet free patterns
Free Vintage Patterns List
Log In / Join the Lion Brand community to get free knitting and free crochet patterns and more!
Creepy Cute Expansion Pack #4: Robbie the Rabbit | NeedleNoodles: Crochet Patterns, Knit Patterns, Amigurumi Awesomeness
As you may or may not know, I am mega-huge dork for the Silent Hill games. So, in honor of my gaming addiction, I've made a set of directions for making your own Robbie the Rabbit from Silent Hill 3. Click here to read more. Note: This design contains simulated gore. If you are bothered by that sort of thing, then you might not enjoy today's post. Please enjoy this video of a cute kitten instead.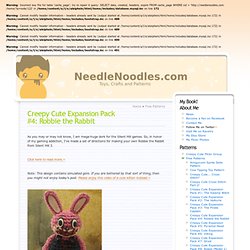 Peter Jensen (photo) (click image to enlarge) Beanis It's a beanie!
¡The AntiCraft!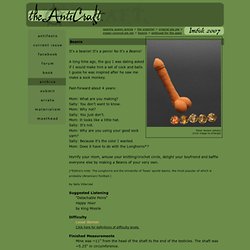 Nibbler's cape, diaper and shoes | Hook and Needles: Knitting and Crochet Blog (cool stuff, techniques, and things I find)
Nibbler with cape, shoes and diaper Sorry it took so long, but I thought I had written down what I did, and if I did, I can't find it. So I'll do my best to recreate my steps here. If you were able to make a Nibbler ( that pattern is here , by the way), I'm sure you'll be able to overcome any omissions or error in the following patterns (and if you see any, let me know). For all parts I used yarn of the same weight as you used for your Nibbler, and a hook a size bigger (I used 4.5mm for Nibbler, and a 5mm for the garments). Cape