Socail media facts
Resources. Anil Batra's Web Analytics Consulting, Behavioral Targeting, Web Site Optimization (A/B and Multivariate Testing) blog.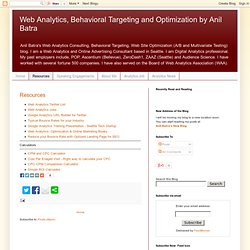 I am a Web Analytics and Online Advertising Consultant based in Seattle. I am Digital Analytics professional. My past employers include, POP, Ascentium (Bellevue), ZeroDash1, ZAAZ (Seattle) and Audience Science. I have worked with several fortune 500 companies. Trendistic - see trends in twitter.
4 Ways to Convert Facebook Fans Into Super Fans. Amy Porterfield is the co-author of Facebook Marketing All-In-One for Dummies and creator of the Facebook marketing training program, FBinfluence.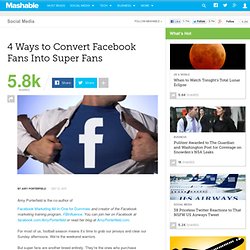 You can join her on Facebook at facebook.com/AmyPorterfield or read her blog at AmyPorterfield.com. For most of us, football season means it's time to grab our jerseys and clear our Sunday afternoons. We're the weekend warriors. How to Build a Content Framework for New Media Success. David Krejci, executive vice president at Weber Shandwick, combines an expert knowledge of social and digital media with more than 15 years of "traditional" PR experience.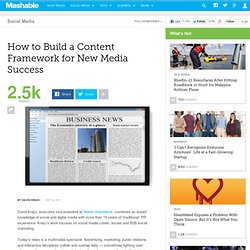 Krejci's work focuses on social media crises, issues and B2B social marketing. Today's news is a multimedia spectacle. Advertising, marketing, public relations and interactive disciplines collide and overlap daily — sometimes fighting over who owns the space, other times bringing alternative perspectives to the table to create stronger programs. This media fusion may be obvious to us, but sometimes businesses struggle with how to use it to their greatest advantage.
Branding: How It Works in the Social Media Age [INFOGRAPHIC] How Pinterest Can Turn Your Brand Red-Hot [INFOGRAPHIC] If your brand isn't on Pinterest, you could be missing out on a growing stream of potential customers.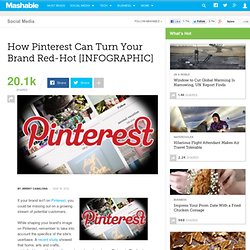 While shaping your brand's image on Pinterest, remember to take into account the specifics of the site's userbase. A recent study showed that home, arts and crafts, style/fashion and food are the most popular categories on Pinterest. Facebook grew 7 users per second all of 2011 [Special Infographic] At Socialbakers, we started a nice tradition of bringing you Facebook Yearbook Infographic, which maps growth, top ranks of countries, brands, public figures, and most checked-in places and pinpoints interesting social media statistics.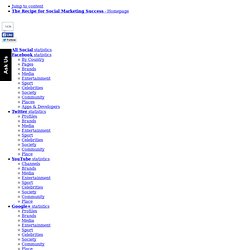 The Facebook statistics of age distribution shows the fastest growth in marginal age ranges of young people and elderly (more than 50%) which indicates Facebook penetration to grow in these groups as well. Remarkable fact is that more than a half (55%) of total Facebook users are (only) in top 10 countries led by USA, Indonesia, India and Brazil. Top 10 Facebook brands increased by 69% and the top public figures gained 213 million of new fans, which represents growth of more than 107%. Small-Business-Social-Media-Infographic-crowdSPRING.
---