Cool links to share
Possessionista Fashion Blog. Female Fashion Croquis Templates. StyleJunkee | Womens Fashion | Womens Clothing and Womens Style Online. BoF – The Business of Fashion | The Business of Fashion is an essential daily resource for fashion creatives, business professionals and entrepreneurs in more than 200 countries around the world.
Twenty Fashion Blogs to Watch Out For | Fashion Design School Guide. Some are up-and-comers, while some have been doing this for years, but one thing's for sure: with blogs as sleek and chic as the clothes on their backs, these men and women know fashion.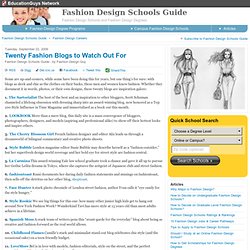 Whether they document it in words, photos, or their own designs, these twenty blogs are inspiration galore: 1. The Sartorialist The best of the best and an inspiration to other bloggers, Scott Schuman channeled a lifelong obsession with dressing sharp into an award-winning blog, now honored as a Top 100 Style Influence in Time Magazine and immortalized as a book out this month. 2.
Suspending Water Without a Cup Trick.
---