Sayujya
Baby Bumblebee song and lyrics from KIDiddles. I'm bringing home a baby bumblebee, Ouch!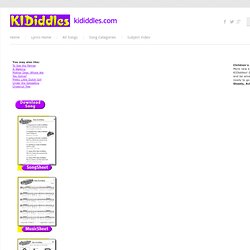 It stung me! (Shake hands as if just stung) I'm squishing up the baby bumblebee, Won't my mommy be so proud of me, ('Squish' bee between palms of hands) I'm squishing up a baby bumblebee, Ooh! It's yucky! American Children's Songs - The USA - Mama Lisa's World: Children's Songs, Nursery Rhymes and Traditional Music from Around the World. Animal Nursery Rhymes: From Nursery Rhymes at Americanfolklore. Baa, Baa, Black Sheep Baa, baa, black sheep,Have you any wool?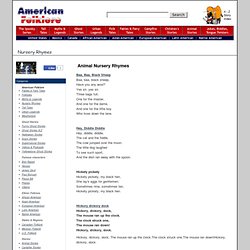 Yes sir, yes sir,Three bags full;One for the master,And one for the dame,And one for the little boyWho lives down the lane. Hey, Diddle Diddle Hey, diddle, diddle, The cat and the fiddle,The cow jumped over the moon.The little dog laughedTo see such sport,And the dish ran away with the spoon. MeeGenius! Collaborative storytelling.
---