Techniques
View Photo Gallery on Strobox - Create, Share, Learn. Message from the Strobox team In 2009 we created a unique iPhone app to document your photography lighting setups.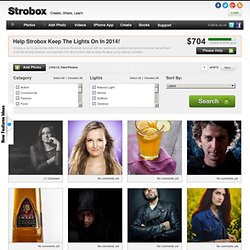 Our bigger vision was to one day create a community where photographers could share their knowledge, experience, and learn from those on the front lines. That dream came true in 2010 when we launched our Strobox website. Scan. Eclairage. LUT_What_is_it.pdf (Objet application/pdf) Qu'est ce que la lumière.pdf (Objet application/pdf) TinEye Reverse Image Search.
Calibrage
Les couleurs complémentaires et comment régler sa balance des blancs - Tutoriel photo. Avant tous il faut savoir que les couleurs sont réparties en trois groupes de teintes.
Ces groupes sont : Les tons chauds (Rouge, Orange, Marron, Jaune, Vert clair)Les tons froids (Bleu, Vert et Violet)Les tons neutres (Gris ou toutes les autres couleurs qui on au moins 50% de noir ou de blanc).
---