Presets
Lightroom Develop Presets. Featured Farewell to Sutro Creative Lightroom preset emulating look & feel of Instagram 1.x's Sutro filter.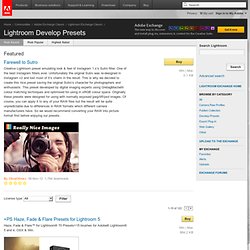 One of the best Instagram filters ever. 28 free Lightroom presets from Chris. Once again I've got a great contribution with presets from a Photographer named Chris!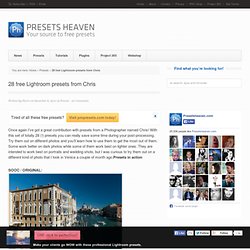 With this set of totally 28 (!) Presets you can really save some time during your post-processing. Let the sunshine get cold. I was out this weekend taking some shots by the coast.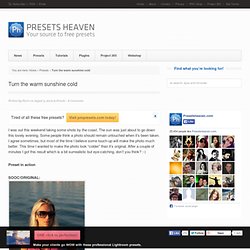 The sun was just about to go down this lovely evening. Some people think a photo should remain untouched when it's been taken. I agree sometimes, but most of the time I believe some touch-up will make the photo much better. This time I wanted to make the photo look "colder" than it's original. Another old school photo look. Happy holidays!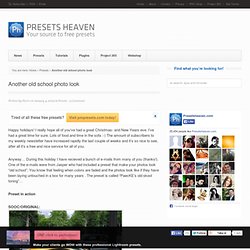 I really hope all of you've had a great Christmas- and New Years eve. I've had a great time for sure. Lots of food and time in the sofa :-) The amount of subscribers to my weekly newsletter have increased rapidly the last couple of weeks and it's so nice to see, after all it's a free and nice service for all of you. Anyway… During this holiday I have recieved a bunch of e-mails from many of you (thanks!). One of the e-mails were from Jasper who had included a preset that make your photos look "old school"; You know that feeling when colors are faded and the photos look like if they have been laying untouched in a box for many years .
Lightroom Presets :: Lemon Drop Presets for Lightroom. Store | Visual Supply Co. Get a free VSCO Keys trial | Visual Supply Co. Lightroom Develop Presets. Whether you're a busy professional photographer or an enthusiastic amateur, editing hundreds or thousands of images requires time you just don't have.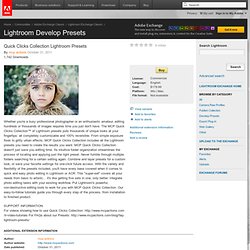 The MCP Quick Clicks Collection™ of Lightroom presets puts thousands of unique looks at your fingertips: all completely customizable and 100% reversible. From simple exposure fixes to gritty urban effects, MCP Quick Clicks Collection includes all the Lightroom presets you need to create the results you want. MCP Quick Clicks Collection doesn't just save you editing time. Its intuitive folder organization streamlines the process of locating and applying just the right preset. A perfect Lightroom preset to start with.
Hi all readers, fans and Lightroom lovers!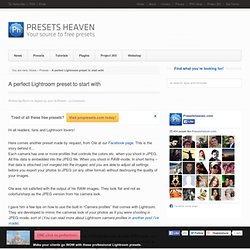 Here comes another preset made by request, from Ole at our Facebook page. This is the story behind it… Each camera has one or more profiles that controls the colors etc. when you shoot in JPEG. All this data is embedded into the JPEG file. When you shoot in RAW-mode, In short terms – that data is attached (not merged into the images) and you are able to adjust all settings before you export your photos to JPEG (or any other format) without destroying the quality of your images. Lightroom Develop Presets.
---