Bookarts
Conservation Resources International, LLC.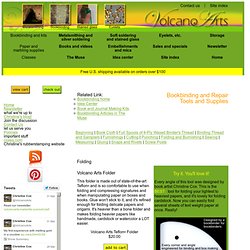 Eggs: Easter, babies and the wonderful tones of handmade paper. Heather: 3 light variegated colors; denim, lavender, olive Ocean Breeze:
Volcano Arts | Bookbinding Supplies
edizioni
It seems a dream that Maybelle Imasa-Stukuls will come to our studio and offer a modern calligraphy workshop with us, with a twist on packaging, by using our line of ribbons. The workshop will be on April 12th, with a chance to chose between a morning class or afternoon. Here below is the description, if you are interested to sign up, the workshop is listed on the online shop or just send us an email. Space are very limited. If you like to read more about Maybelle, please read the interview by Besotted Brand blog. And if you are just curious to see some images of her workshops around the world, Maybelle was recently in Japan and Singapore, you can find lots of inspiration from her photography.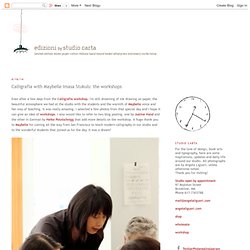 ! Paper.com, greeting card, paper products
Minnesota Center for Book Arts
All-ages fun with Fluxus Ruckus! We hope you will join us for…Fluxus Ruckus All Ages Open House Saturday, April 19; 10am–4pm throughout MCBA's studios and gallery All are welcome to this day of fun and exploration!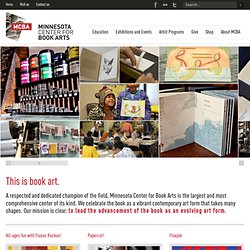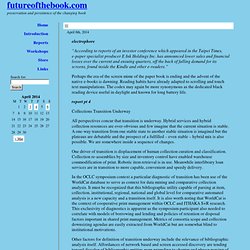 BookNews
ready for summer The five bookbindings to be studied are carefully chosen. Each has its own place in historical methods and is represented by exemplars in the library collections. Each can also be resolved as a prototype of its exemplars; we can typify the features and structure and produce a prototype model. In turn each prototype can be adapted to categories of book conservation treatment.
The Center for Book Arts
Welcome to the Book Arts Web
On January 13, 2012, Volume 8, the largest (and regrettably last) issue of The Bonefolder was published online. What started as an experiment in open-access online-only publishing "way back" in 2004 grew into perhaps the most widely read publication in the book arts with over a quarter million downloads for all issues combined since we began with a global readership. Listing of the The Bonefolder in the Directory of Open Access Journals (DOAJ) placed us in just about every research library's online catalog, and participation in LOCKSS will ensure long-term access to all issues (as do Syracuse University Library's and the Internet Archive's servers). This growth, however, also brought with it ever increasing workloads for the small and incredibly dedicated editorial staff who solicited articles, worked with authors, and much more.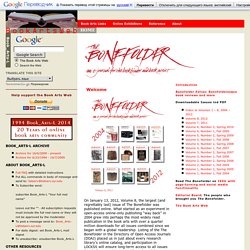 The Bonefolder an e-journal for the bookbinder and book artist