Bookarts
Conservation Resources International, LLC. Volcano Arts | Bookbinding Supplies. Eggs: Easter, babies and the wonderful tones of handmade paper.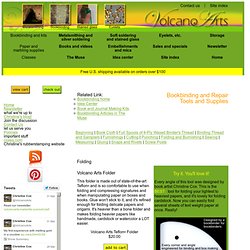 Heather: 3 light variegated colors; denim, lavender, olive Ocean Breeze: Edizioni. ! Paper.com, greeting card, paper products. Minnesota Center for Book Arts. BookNews. The Center for Book Arts. Welcome to the Book Arts Web. The Bonefolder an e-journal for the bookbinder and book artist. On January 13, 2012, Volume 8, the largest (and regrettably last) issue of The Bonefolder was published online.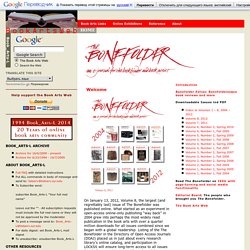 What started as an experiment in open-access online-only publishing "way back" in 2004 grew into perhaps the most widely read publication in the book arts with over a quarter million downloads for all issues combined since we began with a global readership. Listing of the The Bonefolder in the Directory of Open Access Journals (DOAJ) placed us in just about every research library's online catalog, and participation in LOCKSS will ensure long-term access to all issues (as do Syracuse University Library's and the Internet Archive's servers).
This growth, however, also brought with it ever increasing workloads for the small and incredibly dedicated editorial staff who solicited articles, worked with authors, and much more.
---