Prison Industrial Complex
Probation Fees Multiply as Companies Profit. Probation Fees Multiply as Companies Profit. The harm of solitary confinement in prisons. IN 1890, THE U.S.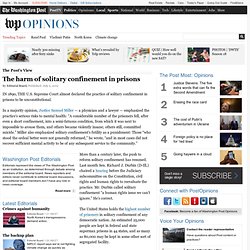 Supreme Court almost declared the practice of solitary confinement in prisons to be unconstitutional. In a majority opinion, Justice Samuel Miller — a physician and a lawyer — emphasized the practice's serious risks to mental health: "A considerable number of the prisoners fell, after even a short confinement, into a semi-fatuous condition, from which it was next to impossible to arouse them, and others became violently insane; others still, committed suicide." Miller also emphasized solitary confinement's futility as a punishment: Those "who stood the ordeal better were not generally reformed," he wrote, "and in most cases did not recover sufficient mental activity to be of any subsequent service to the community."
More than a century later, the push to reform solitary confinement has resumed. Last month Sen. Gaming the System: How the Political Strategies of Private Prison Companies Promote Ineffective Incarceration Policies — Justice Policy Institute. Paul Ashton, Justice Policy Institute Published: June 22, 2011 At a time when many policymakers are looking at criminal and juvenile justice reforms that would safely shrink the size of our prison population, the existence of private prison companies creates a countervailing interest in preserving the current approach to criminal justice and increasing the use of incarceration.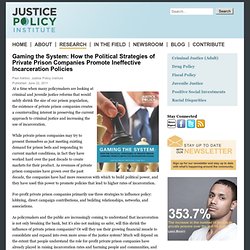 While private prison companies may try to present themselves as just meeting existing demand for prison beds and responding to current market conditions, in fact they have worked hard over the past decade to create markets for their product. As revenues of private prison companies have grown over the past decade, the companies have had more resources with which to build political power, and they have used this power to promote policies that lead to higher rates of incarceration. Gaming the System (full report) National - Andrew Cohen - An American Gulag: Descending into Madness at Supermax. A detailed new federal lawsuit alleges chronic abuse and neglect of mentally ill prisoners at America's most famous prison.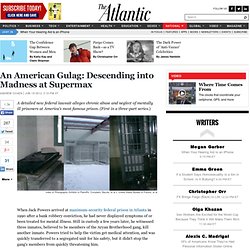 (First in a three-part series.) Index of Photographic Exhibits to Plaintiffs' Complaint, Bacote, et al v. In New Jersey Halfway Houses, Escapees Stream Out as a Penal Business Thrives. At Bo Robinson, a Halfway House in New Jersey, Bedlam Reigns. At a New Jersey Halfway House, a Volatile Mix Fuels a Murder. Louisiana Incarcerated - NOLA.com.
---