Prison Industrial Complex
Probation Fees Multiply as Companies Profit
Probation Fees Multiply as Companies Profit
The harm of solitary confinement in prisons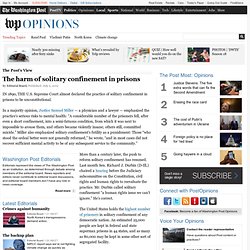 IN 1890, THE U.S. Supreme Court almost declared the practice of solitary confinement in prisons to be unconstitutional.
Gaming the System: How the Political Strategies of Private Prison Companies Promote Ineffective Incarceration Policies — Justice Policy Institute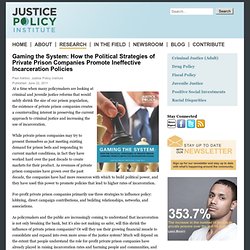 Paul Ashton, Justice Policy Institute Published: June 22, 2011
Gaming the System (full report)
National - Andrew Cohen - An American Gulag: Descending into Madness at Supermax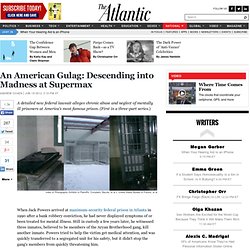 A detailed new federal lawsuit alleges chronic abuse and neglect of mentally ill prisoners at America's most famous prison. (First in a three-part series.) Index of Photographic Exhibits to Plaintiffs' Complaint, Bacote, et al v.
In New Jersey Halfway Houses, Escapees Stream Out as a Penal Business Thrives
At Bo Robinson, a Halfway House in New Jersey, Bedlam Reigns
At a New Jersey Halfway House, a Volatile Mix Fuels a Murder
Louisiana Incarcerated - NOLA.com