Funny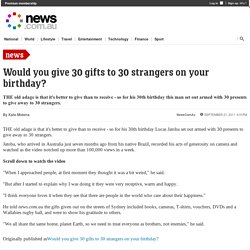 Would you give 30 gifts to 30 strangers on your birthday?
The gifts begin their journey around Sydney / Supplied Source: news.com.au Lucas Jatoba decided to give away 30 gifts on his 30th birthday / Supplied Source: news.com.au THE old adage is that it's better to give than to receive - so for his 30th birthday Lucas Jatoba set out armed with 30 presents to give away to 30 strangers. Jatoba, who arrived in Australia just seven months ago from his native Brazil, recorded his acts of generosity on camera and watched as the video notched up more than 100,000 views in a week.
Image via YouTube video screengrab This is just awesome. Holy Kaw points us to a great video where a flash mob shows a crowded mall why it's a good idea to recycle whenever you have the chance.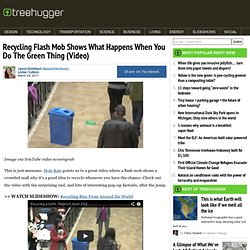 Falling Down On Purpose Video - FAIL
SunDrop Dancing Commercial
Flash Mob at the Ohio Union 5/3/2010 - The Ohio State University
YouTube - Most Awesome - Girlfriend Scare Pranks
Top 7 Flash Mobs Of All Time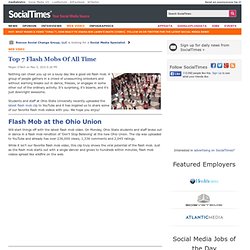 Nothing can cheer you up on a lousy day like a good old flash mob. A group of people gathers in a crowd of unassuming onlookers and without warning breaks out in dance, freezes, or engages in some other out of the ordinary activity. It's surprising, it's bizarre, and it's just downright awesome.