FNAC
Fnac : DVD, informatique, jeux vidéo, logiciel, CD, GPS, livres, ordinateur, appareils photo, neuf et occasion. GSMArena.com - GSM phone reviews, news, opinions, votes, manuals and more... Sony Ericsson - Accueil. Créer un compte Sony Ericsson. Inscription Veuillez saisir votre prénom.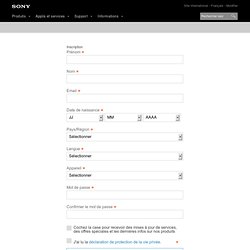 Trop de caractères. Veuillez saisir votre nom. T?l?phones portables et accessoires mobiles - Samsungmobile. GSM. HTC. LG Application Store Web. Smartphones BlackBerry - Téléphones Portables BlackBerry France. Belgique - Luxembourg - Home. Apple. Beats by Dr. Dre Official Site – High Performance Headphones from Monster. Personal Audio. Enceintes Home Cinéma, iPod & Hi-Fi - Bowers & Wilkins | B&W.
Appareil photo, TV HD, Blu-ray, lecteur MP3, ordinateur portable : Sony. France. Haut du menu contectuel SAMSUNG ELECTRONICS FRANCE SAS au capital de 27 000 000 € - RCS Bobigny 334 367 497 Siège social : 1 rue Fructidor - CS 2003 - 93484 Saint-Ouen Cedex Service Consommateurs : 01 48 63 00 00 N° TVA Intracommunautaire : FR89 334367497 Hébergeur : SAMSUNG ELECTRONICS CO.LTD #170 Samsung Electron ics Building 1320-10, Seocho 2-Dong, Seocho-Gu, Seoul Postal code: 137-857 République de Corée.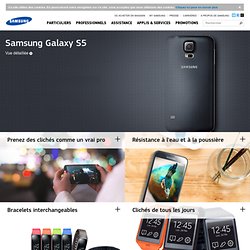 Directrice de la publication : Maral Zakarian. Appareils photo Lumix, TV HD 3D Viera, Blu-ray, caméscopes, électroménager. Worldwide: casques, microphones et systèmes d'information. The requested page could not be found If you entered the URL manually please check your spelling and try again.In any case, the error will be reported to our webmasters.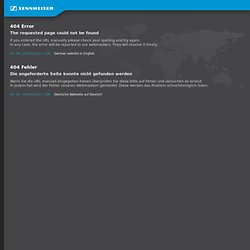 They will resolve it timely. en-de.sennheiser.com German website in English. Bose – La recherche du meilleur son. JBL On Time 5V - Noir. Welkom bij JVC België.
---