Typography
Fonts} :: Illustration & Design, Digital Scrapbooking, Free Fonts, Tutorials and more! | free fonts. 40 Free Fonts Ideal For Retro And Vintage Designs. Vintage and retro style designs can be a beautiful thing.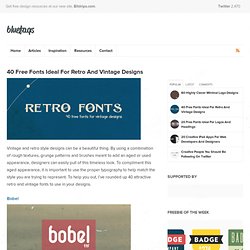 By using a combination of rough textures, grunge patterns and brushes meant to add an aged or used appearance, designers can easily pull of this timeless look. To compliment this aged appearance, it is important to use the proper typography to help match the style you are trying to represent. To help you out, I've rounded up 40 attractive retro and vintage fonts to use in your designs. 10 Excellent New Free Fonts. Here at WDL, we know how important it is for our readers to have as many good resources as possible in their design library.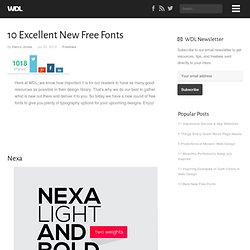 That's why we do our best to gather what is new out there and deliver it to you. So today we have a new round of free fonts to give you plenty of typography options for your upcoming designs. Enjoy! Nexa Maven Pro. 1001 Free Fonts - Download Free Fonts for Windows and Macintosh. 50 Extremely Awesome Examples of Typography.
This time we're gonna show you some truly inspiring works with text, also referred to as typography.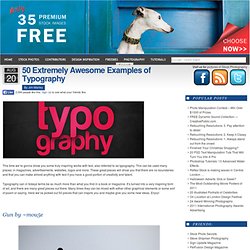 This can be used many places; in magazines, advertisements, websites, logos and more. These great pieces will show you that there are no boundaries and that you can make almost anything with text if you have a good portion of creativity and talent. Typography can in todays terms be so much more than what you find in a book or magazine. It's turned into a very inspiring form of art, and there are many great pieces out there. Many times they can be mixed with either other graphical elements or some sort of poem or saying. Lost Type Co-op | Browse Fonts. 50 Fresh Free Fonts of 2010. Though there's a broad variety of fonts available for download online, designers keep on tracing the fresh ones to enhance their design copy, a website, brochure, or even an advertisement in a brand new an' awesome way.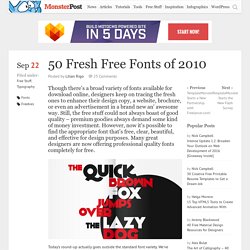 Still, the free stuff could not always boast of good quality – premium goodies always demand some kind of money investment. However, now it's possible to find the appropriate font that's free, clear, beautiful, and effective for design purposes. Many great designers are now offering professional quality fonts completely for free. Today's round-up actually goes outside the standard font variety. We've managed to gather a collection of 50 novelty styled free fonts which you can instantly download and use to add a powerful impact for your designs.
45+ Exceptionally Useful Free Handwritten Fonts. Should Handwritten Fonts be used in web design?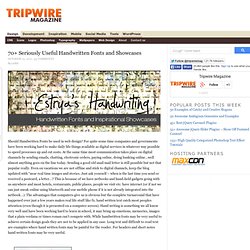 For quite some time companies and governments have been working hard to make daily life things available as digital services in whatever way possible to speed processes up and cut costs. At the same time most communication takes place on digital channels by sending emails, chatting, electronic orders, paying online, doing banking online…well almost anything goes on the line today. Sending a good old snail mail letter is still possible but not that popular really. Even on vacations we are not offline and stick to digital channels, keep the blog updated with "near real time images and stories.
---