WOODWORKING
Whitewash voor meubels, vloeren en accessoires. Whitewash is een geweldige techniek om meubels, vloeren of accessoires een mooie gebleekte uitstraling te geven.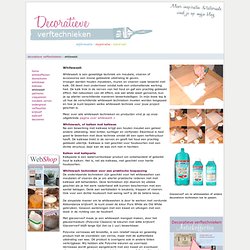 Vroeger werden houten meubelen, muren en vloeren vaak bewerkt met kalk. Dit deed men ondermeer omdat kalk een ontsmettende werking had. De kalk trok in de nerven van het hout en gaf een prachtig gebleekt effect. Joinery Basics. The best way to hold together a high-end woodworking projects, whether you're building a timber-frame home, putting together a trestle table or making a step stool, is with a bit of glue and hand cut joints.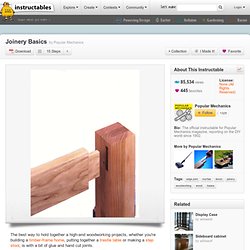 It is easier to use mechanical fasteners, like nails and screws, but to add that look of first-class work, with smooth, metal free visible areas, nothing will do the job like a direct joint between parts, bonded with glue. Of course, the type of joint you need depends on a variety of factors, like the nature of the materials, the function of the joint, strength and appearance, available equipment, and your own level of skill. Joinery may be intimidating to the beginner, but, like any other building skill, all it takes is a bit of practice. Here we dissect the workings of two primary joints, the edge joint and the mortise and tenon. Why Pay? 24/7 Free Access to Free Woodworking Plans and Projects. Woodworking How To - DIY Woodworking Projects and Plans. Woodworking: Making wood projects without using nails, screws, or glue. Make knock-apart shelves, hinges, latches, books, chairs, cabinets, spice containers, doors, desks, and toolboxes using only wood to hold them together.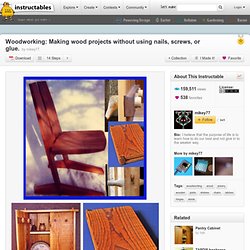 Almost any wood project can be made without using any metal fasteners or glue. This instructable details the techniques and tools I have successfully used over the years to do this. So, rather than just showing a single project, I will demonstrate a system of fairly simple woodworking joints that you can use to create your own wood projects.
Best of all, all the projects featured here can be entirely made with hand tools (although power tools will make it go faster and easier). Woodworking without metal or glue is of course nothing new.
---