Storage Service
We've refreshed the Dropbox mobile website!
「 Minus 」是一個去年開始崛起的 線上免費空間 服務 ,一開始它鎖定照片線上分享的需求,讓用戶直接拖曳相片到瀏覽器裡就能上傳相簿,而Minus簡單易用的操作風格也搏得了很多用戶的目光。接著Minus開始慢慢的進化,能夠接收各種檔案之餘也能預覽多種文件圖檔,並且加入了更好的管理、分享功能,讓自己朝著線上檔案分享社群的需求邁進。 當然,更重要的是Minus的檔案上傳下載限制也不斷放寬, 目前不需登入就能上傳 200MB 以內檔案並立刻分享。 而如果註冊帳戶後,則可擁有總容量10GB的空間來分類存放各種內容( 官網上雖然說註冊後可以上傳2GB以內的檔案,但我這邊嘗試超過200MB時總是會失敗 )。 而且更棒的是Minus提供了多種平台的 簡易上傳管理工具 ,包含Windows、Mac、Linux的上傳軟體,以及支援 Android 、 iPhone 的檔案管理App,我們可以透過這些工具簡易快速的分享檔案。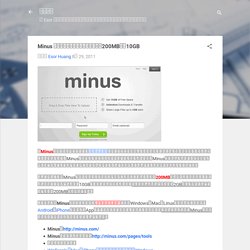 Minus 簡易檔案上傳下載免費空間,單檔200MB容量10GB
Backify Gives 512GB of Unencrypted Online Backup Storage for Free
Update : You might not want to use this service. See this link for reasons. A new service called Backify is offering an insane 512GB of online storage for free just for signing up for their service. It's the definition of freemium, with two additional tiers of unlimited backup and unlimited backup + "briefcase", which is space you can use for anything, coming in at $3 and $5 a month, respectively. This amount of space for free sounds amazing, especially since they let you download software onto your computer to automatically take care of backups for you, thereby minimizing the amount of ads you would have to look at (for them to recoup bandwidth and storage costs). That is, if that's even how they monetize the service.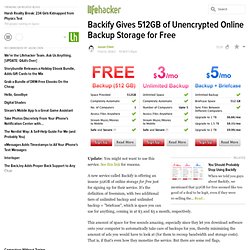 The History of Digital Storage [INFOGRAPHIC]
The whirring hard drives that once occupied entire university labs held but a fraction of the data we carry in our pockets every day — and that's only 50 years of progress. Today, as we move further into the cloud, and witness the latest and greatest pocket media devices, we thought it fitting to take a look back at how far we've come on our quest to store as much information in as little space as possible. Infographic research and design by Mike Vasilev .