Storage Service
We've refreshed the Dropbox mobile website!
「Minus」是一個去年開始崛起的線上免費空間服務,一開始它鎖定照片線上分享的需求,讓用戶直接拖曳相片到瀏覽器裡就能上傳相簿,而Minus簡單易用的操作風格也搏得了很多用戶的目光。接著Minus開始慢慢的進化,能夠接收各種檔案之餘也能預覽多種文件圖檔,並且加入了更好的管理、分享功能,讓自己朝著線上檔案分享社群的需求邁進。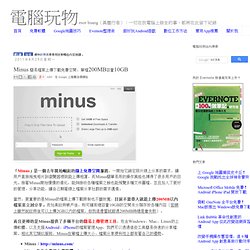 Minus 簡易檔案上傳下載免費空間,單檔200MB容量10GB
Backify Gives 512GB of Unencrypted Online Backup Storage for Free
This just in: "Dear UserNameHere We are writing to you regarding BACKIFY.COM who you recently created an online backup account with. BACKIFY.COM was a reseller of Livedrive ([www.livedrive.com).] Livedrive provided the technology and service behind the product offered to you by BACKIFY.COM. We are writing to inform you that BACKIFY.COM is no longer a Livedrive reseller and the services that they purchased from our company on your behalf have been terminated.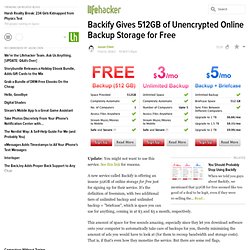 The History of Digital Storage [INFOGRAPHIC]
The whirring hard drives that once occupied entire university labs held but a fraction of the data we carry in our pockets every day — and that's only 50 years of progress. Today, as we move further into the cloud, and witness the latest and greatest pocket media devices, we thought it fitting to take a look back at how far we've come on our quest to store as much information in as little space as possible. Infographic research and design by Mike Vasilev.