Concept Of FB 「Top story」
科技報橘-臉書新首頁上線,你眼花了嗎
Heyo is 3 powerful marketing tools all in one - you'll never look back... Show Me The HelloBar - a little bar that gets noticed! Heyo Start. Grow. Lead.
What Makes a Facebook Top Story?
By Daniel Bates and Rob Waugh UPDATED: 20:04 GMT, 22 September 2011 Facebook CEO Mark Zuckerberg is set to unveil a series of improvements to the service this week - including the option to 'Want' or 'Read' instead of simply 'Like' Facebook is unveiling big changes today in California, including a music service that lets you listen to your friends' music 'live' - but so far, seems to have largely succeeded in goading its 750 million users into a fury. Users have been infuriated by this week's overhaul of the site - with some likening it to the disastrous update to news site Digg that led to a wave of protest and a spate of resignations.
Facebook changes: Thousands of protests and 'We hate the new news feed' group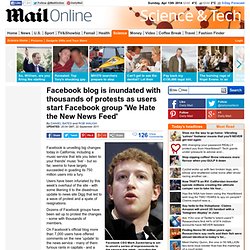 Facebook 新版動態首頁上線,你準備好了嗎?
What is a highlighted story? - Facebook Help Center
Tips: What's the Difference between Top News and Most Recent?
The New 'Top' Story: Facebook's Flow Of Change : All Tech Considered
Facebook CEO Mark Zuckerberg shows Timeline during the f/8 conference in San Francisco, on Thursday. The changes to Facebook continue, but some people are unhappy with the recent tweaks. Paul Sakuma / AP I logged on to Facebook this week to check out the changes so many people had been griping about in person.