C++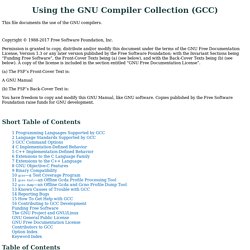 Using the GNU Compiler Collection (GCC)
Permission is granted to copy, distribute and/or modify this document under the terms of the GNU Free Documentation License, Version 1.3 or any later version published by the Free Software Foundation; with the Invariant Sections being "Funding Free Software", the Front-Cover Texts being (a) (see below), and with the Back-Cover Texts being (b) (see below). A copy of the license is included in the section entitled "GNU Free Documentation License". You have freedom to copy and modify this GNU Manual, like GNU software. Copies published by the Free Software Foundation raise funds for GNU development.
CodingUnit Programming Tutorials
Diamond problem
Multiple inheritance is a feature of some object-oriented computer programming languages in which a class can inherit characteristics and features from more than one superclass . It is distinct to single inheritance , where a class may only inherit from one particular superclass. Languages that support multiple inheritance include C++ , Common Lisp via the Common Lisp Object System , Perl and Python . Multiple inheritance has been a touchy issue for many years, with opponents pointing to its increased complexity and ambiguity in situations such as the "diamond problem", where it may be ambiguous as to which superclass a particular feature is inherited from if more than one superclass implements said feature. This can be addressed in various ways, including using virtual inheritance . [ 1 ] [ edit ] Details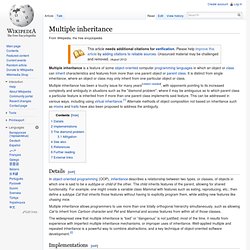 Dynamic programming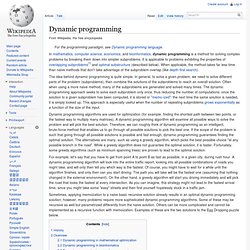 In mathematics , computer science , and economics , dynamic programming is a method for solving complex problems by breaking them down into simpler subproblems. It is applicable to problems exhibiting the properties of overlapping subproblems [ 1 ] and optimal substructure (described below). When applicable, the method takes far less time than naive methods.
Smart pointer templates in C++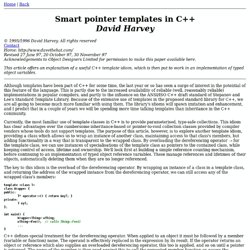 Home | Back © 1995/1996 David Harvey. All rights reserved Contact Home: http://www.davethehat.com/ Revised 27 June 97, 20 October 97, 30 November 97 Acknowledgements to Object Designers Limited for permission to make this paper available here. This article offers an explanation of a useful C++ template idiom, which is then put to work in an implementation of typed object variables. Although templates have been part of C++ for some time, the last year or so has seen a surge of interest in the potential of this feature of the language. This is partly due to the increased availability of reliable (well, reasonably reliable) implementations in popular compilers, and partly to the influence on the ANSI/ISO C++ draft standard of Stepanov and Lee's Standard Template Library.
The C++ 'const' Declaration: Why & How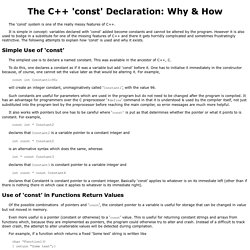 The 'const' system is one of the really messy features of C++. It is simple in concept: variables declared with 'const' added become constants and cannot be altered by the program. However it is also used to bodge in a substitute for one of the missing features of C++ and there it gets horridly complicated and sometimes frustratingly restrictive.
C++ FAQ