Public Sites
The Lesbrary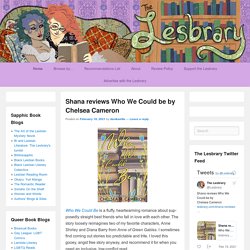 Coming out stories are nothing new to the lesbian romance genre; and, if you are anything like me, you may approach such fictional accounts with a healthy dose of skepticism and relatively low expectations. After all, we've all been burned a time or two in attempting to invest ourselves in stories that ended up being clumsily crafted or just plain over-the-top. At last, I am pleased to offer my most heartfelt recommendation of Something in the Wine, one of the most skillfully written narratives of a woman's coming to terms with her sexuality that I have encountered to date. Annie Prideaux, senior accountant at Cargill & Jones, asks for little more out of life than to conduct her career successfully, enjoy her books and avoid the incessant barrage of practical jokes of her party-boy brother, Jake.
Nikki & Nora Fan Fiction Forum
Harry Potter Femslash Fans
Uber Etc. - We check 'em so you don't have to.
Saturday, June 30, 2012 June is leaving.... Welcome July. Here is hoping for the best. Sorry not much to ramble about tonight. Enjoy the updates.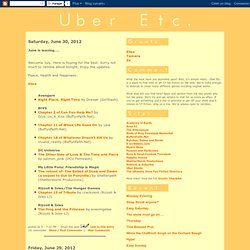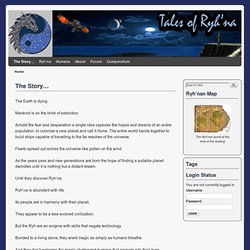 Tales of Ryh'na
The Earth is dying. Mankind is on the brink of extinction. Amidst the fear and desperation a single idea captures the hopes and dreams of an entire population: to colonise a new planet and call it home. The entire world bands together to build ships capable of travelling to the far reaches of the universe. Fleets spread out across the universe like pollen on the wind. As the years pass and new generations are born the hope of finding a suitable planet dwindles until it is nothing but a distant dream.
PDA Fiction: Uber & Original Stories
The Ultimate Uber List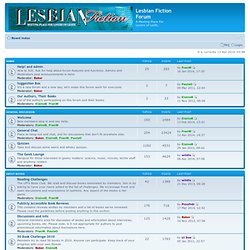 It is currently 13 Apr 2014, 03:48 Help! and Admin How to Join.
Lesbian Fiction Forum • Index page
For /u/, Ace Attorneyhttp://community.livejournal.com/gyakuten_girls/tag/fanfiction Alienhttp://movies.adultfanfiction.net/story.php?no=600090483 Avatarhttp://nikipinz.deviantart.com/art/The-Broken-Dragon-92364364http://shinjishazaki. deviantart.com /art/Chigai-Chapter-1-104996147http://community.livejournal.com/azula_tylee/19904.htmlhttp://seriousfic.livejournal.com/102870.htmlhttp://gaangjr.wikia.com/wiki/Azula#Stories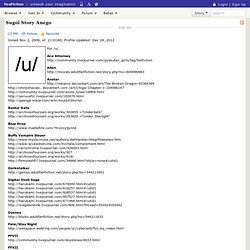 Sugoi Story Anego
Bella Books - Books and eBooks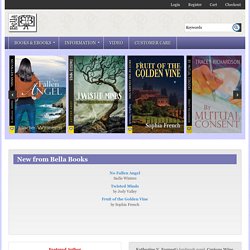 Love. Passion. Justice.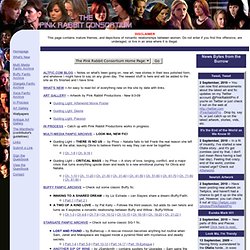 ALTFIC.COM BLOG -- Notes on what's been going on, new art, new stories in their less polished form, and whatever I might have to say on any given day. The newest stuff is here and will be added to the site as it's finished and I have time. WHAT'S NEW -- An easy to read list of everything new on the site by date with links.
The Pink Rabbit Consortium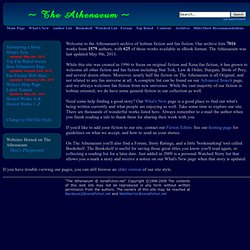 Welcome to the Athenaeum's archive of lesbian fiction and fan fiction. Our archive lists 7016 works from 1579 authors, with 625 of those works available in eBook format. The Athenaeum was last updated May 9th, 2013. While this site was created in 1996 to focus on original fiction and Xena fan fiction, it has grown to welcome all other fiction and fan fiction including Star Trek, Law & Order, Stargate, Birds of Prey, and several dozen others.
The Athenaeum @ xenafiction.net. Lesbian Fiction and Xena Fan Fiction Index
We're a fan-created, fan-run, non-profit, non-commercial archive for transformative fanworks, like fanfiction, fanart, fan videos, and podfic. We currently have 14110 fandoms, 256344 registered users, and 964704 works. While the site is in beta, you can get an invitation from another user or from our automated invite queue. All fans and fanworks are welcome! The Archive of Our Own is a project of the Organization for Transformative Works.
Archive of Our Own » home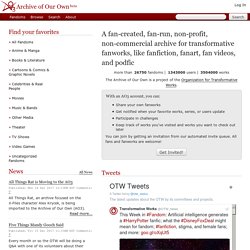 Unleash Your Imagination
Let the Words Flow - FictionPress.com
Welcome Passion and Perfection is home to a wide variety of f/f fan fiction from a number of different authors. These stories vary from country to country, galaxy to galaxy and from one century to another, but there is one thing they have in common: they each portray the love and friendship that exists between women. So if it's femslash you're looking for, sit back and enjoy what we have to offer.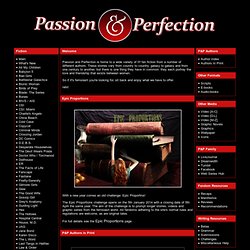 Passion and Perfection