Colour
Get flash to fully experience Pearltrees
I found some yellow sweatshirt fleece for a great deal online. It arrived, and the color was a lot brighter than I wanted. A bright banana yellow.
July 2nd, 2008 Email 7 users recommend
December 14th, 2008 Email
Designed by Alice Schnebly Supplies Easter egg dye tablets Vinegar (I used a whole 32 oz. bottle by the end of the dyeing session) Aluminum foil or Steamer
I hope you all had a fabulous Christmas! I did, and now I'm looking forward to celebrating the new year.
A Passion for Color If you love fabric, then you probably share a passion for color. From rich solids to vibrant prints, perusing the fabrics in a fabric shop is like being a kid in a candy store.
Never dyed before?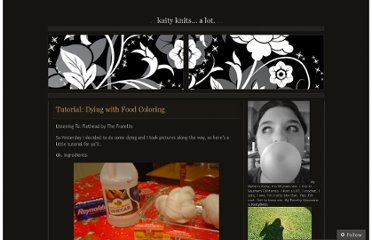 Listening To: Flathead by The Fratellis