ProjectManagement
9 of the Best Free Linux Project Management Software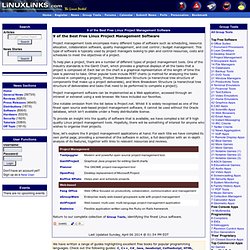 Project management tools encompass many different types of software such as scheduling, resource allocation, collaboration software, quality management, and cost control / budget management. This type of software is typically used by project managers looking to plan and control resources, costs and schedules to meet the objectives of a project.
Codendi:Welcome on the Codendi community site
Online - Category: Office / Project Management
VisionProject is a Project Management Software that enables you to manage projects in an efficient way, saving you time and money. VisionProject supports the Lean and Agile (such as Scrum and XP) way to manage projects with tools such as Task Board, Kanban Board, Burn-Down Charts and Cumulative Flow Diagrams (CFD), but can also be used for Traditional Project Management. In addition to the Project Management functionality, VisionProject also has a HelpDesk/Service Desk Module for managing support tickets, submitted from Emails, Phone Calls or from the built-in web-based Support Portal.
webbaserat verktyg för projekt-, ärende- och dokumenthantering, samt kundsupport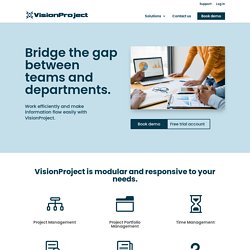 Posted by Phil Wolff, 2/3/00 at 12:58:30 AM.tools: 12 June 1999Project Management checklists and templatesA traditional PM aphorism: "You know you're a successful project manager when you survive the project."
tools: Project Management checklists and templates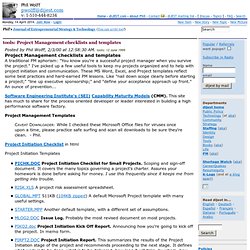 StartWright™ is the leading reference site for the information needs of information technology project managers and support staff traveling to, starting up, and working on remote, dispersed or virtual projects.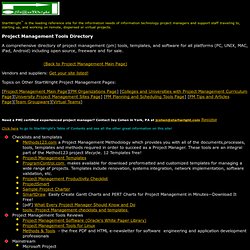 Project Management Tools and Templates Directory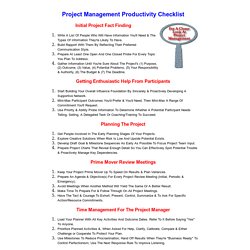 Productivity Checklists for Sales, Project Management & more
Write A List Of People Who Will Have Information You'll Need & The Types Of Information They're Likely To Have. Build Rapport With Them By Reflecting Their Preferred Communication Style.