Musique
All songs by any music artist | allSongsBy
Collector : le premier concert de Rage against the machine
Noisey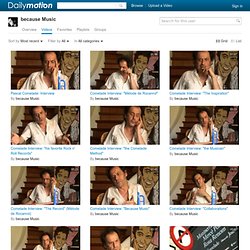 Toutes les vidéos de because Music (Comelade)
Pascal Comelade: Interview motionmaker Interview complète de Pascal Comelade à propos de son nouvel album "Mètode de Rocanrol" qui sort ce 5 novembre 2007 http://www.metodederocanrol.com Comelade Interview: "Mètode de Rocanrol" motionmaker Pascal Comelade introduces his new album "Mètode de Rocanrol" (Rock n' Roll Method...)"
maisons de disques/labels
▶ Mansfield.TYA - Des Coups, Des Coeurs by Vicious_Circle
Klezmer Kaos
Musik aus Berlin | 17 HIPPIES
Les Tindersticks jouent Claire Denis - Le fil musique
La Sarthe est le domaine des Martel.
Las Ondas Marteles - Las Ondas Marteles - LA BLOGOTHEQUE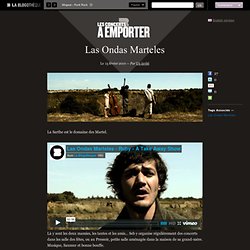 las ondas marteles | Free Music, Tour Dates, Photos, Videos
"Les livres absorbent les sons" a dit le libraire. C'était donc, finalement, une bonne idée de faire jouer Emily Jane White au milieu des livres. Il aurait peut-être été préférable de choisir le magasin sombre et confiné d'un bouquiniste et l'odeur caractéristique des vieux papiers, mais il fallait aussi que la voix d'Emily porte, que ce soit feutré sans être étouffant, lumineux sans être éblouissant, qu'on retrouve la modernité de sa musique dans une librairie flambant neuf.
Emily Jane White - Emily Jane White - LA BLOGOTHEQUE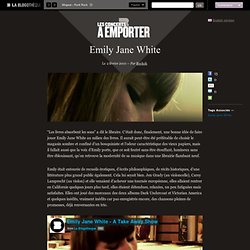 Yo La Tengo - Yo La Tengo - LA BLOGOTHEQUE
Ils faisaient partie de ces groupes qu'on n'aurait jamais imaginé filmer. D'abord parce que comme ils l'expliquaient récemment au New York Magazine , ils se sentent 'très à l'aise les uns avec les autres, beaucoup moins avec le reste du monde' et que nous nous étions par le passé frotté à quelques refus polis. Ensuite parce que Yo La Tengo plane au dessus du reste, fait partie d'un panthéon mystérieux, presque vaporeux, que l'on hésiterait presque à incarner, à jeter dans la rue.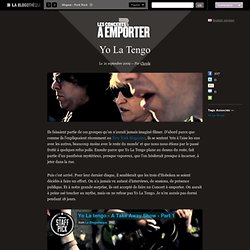 An Pierle - An Pierle - LA BLOGOTHEQUE
Vincent Moon - Video : Take Away Show _ THIAGO PETHIT - 2010_2011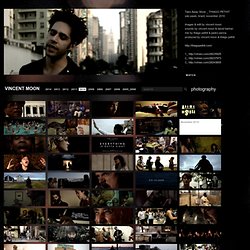 Take Away Show _ THIAGO PETHIT sao paulo, november 2010 images & edit by vincent moon sounds by vincent moon & david barkan mix by thiago pethit & pedro penna produced by vincent moon & thiago pethit http://thiagopethit.com/ 1_ http://vimeo.com/28235925 2_ http://vimeo.com/28237973 3_ http://vimeo.com/28243605 vincent moon filmography 2013 2012 2011 2010 2009 2008 2007 2006 2005_2000
- KIDAM film production - Kidam
Watch Your Steps - Musical Film Production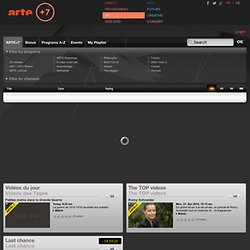 Catch Up on the last 7 days of ARTE Téléchat 05:06 Today, 5:00 am Mikmac, le micro de Groucha, ne se prive pas d'intervenir. Watch (1 vote) Le club des hommes sirènes 58:02 Today, 12:30 am Des Suédois traversant la crise de la quarantaine montent un groupe de natation synchronisée. Watch (1 vote) La semaine de vérité (8/9) 31:15 Yesterday, 11:58 pm Mai s'éloigne de plus en plus d'Arndt, qui a du mal à assumer cette nouvelle situation.
PJ Harvey : Let England Shake en 12 (sublimes) vidéos
PJ Harvey live session: How I wrote ... The Last Living Rose | Music
CHAPI CHAPO & LES PETITES MUSIQUES DE PLUIE - Toy music !
CHAPI CHAPO & les petites musiques de pluie
Outils en ligne pour écouter de la musique
Outils en ligne pour créer ou mixer de la musique