Writing_group
Tag Galaxy. Firebrand Literary. Create. Create a PicLit. Snorkel #6: About Snorkel. Snorkel is an online literary magazine with a special interest in bringing together the creative writings of Australians and New Zealanders, while also welcoming submissions from the wider international community.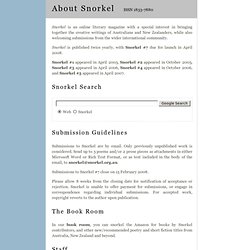 Snorkel is published twice yearly, with Snorkel #7 due for launch in April 2008. Snorkel #1 appeared in April 2005, Snorkel #2 appeared in October 2005, Snorkel #3 appeared in April 2006, Snorkel #4 appeared in October 2006, and Snorkel #5 appeared in April 2007. Snorkel Search Submission Guidelines. Dotlit - the online journal of creative writing. Writing Guidelines. Submitting Your Stories To Glimmer Train Things You Should Know: We two sisters genuinely welcome new writers, and are happy to consider any original short story (no novels, poetry, or stories written for children, please) that has not appeared in a print publication.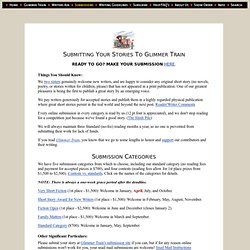 One of our greatest pleasures is being the first to publish a great story by an emerging voice. Submit Your Story | Story Submissions | We Want Your Stories! | TAKAHE Magazine.
---