Reference
Electronics
Criticalthinking. Projectbasedlearning. Dictionary. Handbound Book - Instructables - DIY, How To, craft. Pages last longer, lie flatter, and look better inside a handsome, durable hardcover.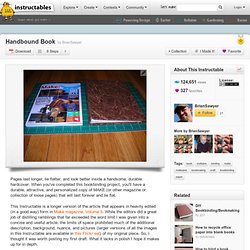 When you've completed this bookbinding project, you'll have a durable, attractive, and personalized copy of MAKE (or other magazine or collection of loose pages) that will last forever and lie flat. This Instructable is a longer version of the article that appears in heavily edited (in a good way) form in Make magazine, Volume 5. While the editors did a great job of distilling ramblings that far exceeded the word limit I was given into a concise and useful article, the limits of space prohibited much of the additional description, background, nuance, and pictures (larger versions of all the images in this Instructable are available in this Flickr set) of my original piece.
So, I thought it was worth posting my first draft. What it lacks in polish I hope it makes up for in depth. The 8 Conditions That Make a Difference. Edutopia: What Works in Public Education. Pages by and for Kids. ARB.
---